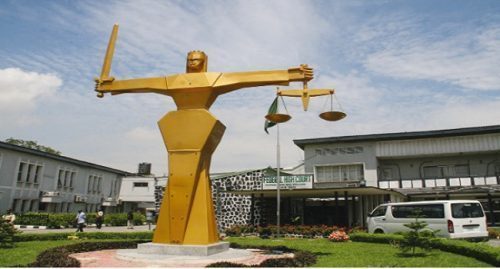 The National Executive Council of the Judiciary Staff Union of Nigeria (JUSUN) on Tuesday prevented the Chief Registrar of the Nasarawa State High Court, Sunday Bawa, from entering the court premises.
The union on Monday prevented Justice Suleiman Dikko, the Chief Judge of the state from leaving the court premises for eight hours after entering into his office at about 8 a.m.
The chief judge was prevented from leaving his office until about 3 p.m.
JUSUN in the state had embarked on strike since Nov. 13, 2018, to press home better welfare for its members.
NEC members of JUSUN from the 36 states and FCT joined the three-day protest which began on Monday.
Speaking on the second day of the protest at the High Court Headquarters in Lafia, JUSUN National President, Marwan Mustapher-Adamu, said the action would continue until Wednesday.
Represented by Saidu Adamu, the union's National Assistant Secretary, Mustapher said nobody would be allowed into the court premises throughout the period of the protest.
Security agencies, comprising the police and operatives of civil defence had taken position at the gate of the court to prevent breakdown of law and order.

Load more