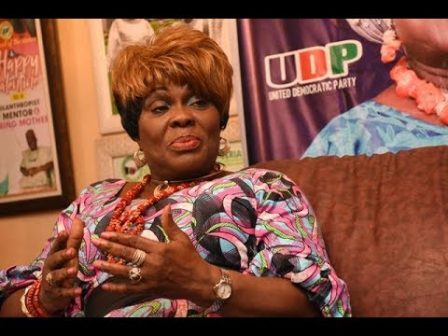 Adejoke Adeleye/Abeokuta
The governorship candidate of the United Democratic Party, Chief Jackie Adunni Kassim has described the eight years of the Senator Ibikunle Amosun administration as a failure in terms of development of the state.
Kassim who spoke with newsmen during a mega rally held at the party secretariat in Abeokuta, the state capital, said she visited the twenty local governments in the state and was disappointed with all she saw across the state.
"I have discovered a lot from my visits to the twenty local governments in the state and I can assure you that there's nothing called development in Ogun state.
"Abeokuta is not the only town in Ogun state. Ogun state is massive. I went from Ado-odo Ota to Ipokia down to Imeko-afon I was very disappointed with all I saw over there.
"Likewise, I was at the eastern part of the state Ijebu north, Ijebu east, Remo, Sagamu, Odogbolu, Ogun Waterside but there's nothing to write about all those areas in terms of development.
"I don't know what is wrong with the state government, even in Abeokuta, the only place that is partly developed is the commercial center, where tourists can pass through to Olumo rock, and to me that is not the development Ogun state needs.
"If I am to score this administration after touring the state, I will score this present government 20 percent in terms of development".
Speaking about what she intended doing if she wins the guber election, Kassim promised to refurbish all the existing medical facilities across the state to enable citizens of Ogun have unhindered access to good and qualitative medical care.
She also appealed to the people of the state to exercise their franchise peacefully and promise to take the state to great heights.
The Ogun UDP guber candidate also promised a radical transformation of the educational sector in the state, stressing that "every student would have to be re-orientated towards acquiring vocational skills that will make them financially non-dependent on their parents.
In the area of agriculture and challenges of youths unemployment, the Iyalode Igboreland assured that UDP would transform the agricultural potentials of the state in a way that would provide employment opportunities for youths of the state.
"Everyone should be calm and come out on Saturday as a good citizen to exercise their civil rights peacefully and make sure you stay and count to have records with you.
"You can rig the votes, but you can't rig what God has ordained, God is there watching everyone.

Load more