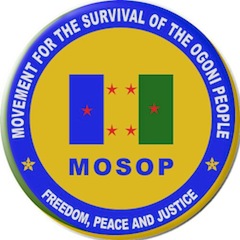 The Movement for the Survival of the Ogoni People (MOSOP) has expressed concerns about the tensed security situation in the country, particularly in Rivers State ahead of the governorship and state assembly polls scheduled for this weekend.
A statement issued by MOSOP's President, Fegalo Nsuke on Wednesday, said the body was worried about the cases of violence nationwide particularly in Rivers State where reports suggested that over 30 persons were killed during and after the last national assembly and presidential polls.
"We call on all parties to work for peace and end the violence during and after this Saturday's governorship and state assembly elections. MOSOP strongly warns against the excesses of soldiers and want to unequivocally warn against the militarization of Ogoniland.
"We note that the Nigerian military has never been a friend of the Ogoni people and the scars of their past brutality are still very fresh on us. MOSOP will strongly frown at any form of military repression against our people and will take all steps, legal, to ensure that perpetrators of all forms of abuses are brought to account.
"We call on all Ogonis to be peaceful during the polls and to be very vigilant to checkmate the use of the military and political tugs to deny the people their rights to choose in next Saturday's elections," the statement said.

Load more