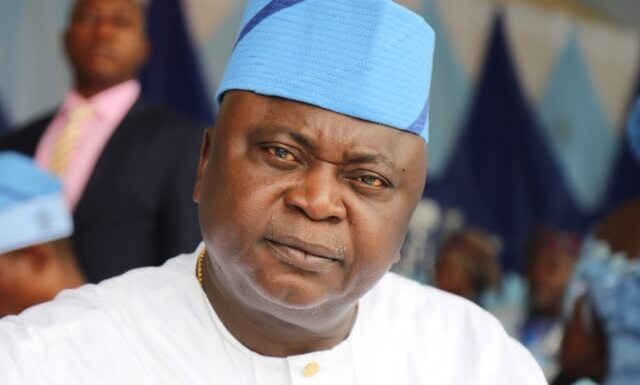 Adejoke Adeleye/Abeokuta
Ladi Adebutu of the Peoples Democratic Party, PDP, has appealed to politicians to leave his father, Sir Kessington Adebutu out of partisan politics.
Adebutu, in a statement issued by his media aide, Afolabi Orekoya on Friday said his attention had been drawn to the purported press statement credited to Sir Kessington Adebukunola Adebutu as a reaction to the adoption of the Hon. Adekunle Akinlade by the Peoples Democratic Party on Thursday.
"Hon. Oladipupo Adebutu is appealing to all concerned to please leave his dear father out of partisan politics. Please kindly accept my pleas and leave sir Kessington Adebukunola Adebutu out of partisan politics. Sir Kesington Adebukunola Adebutu is a businessman while Ladi Adebutu by choice is a politician.
"It is a known fact that Sir Kessington Adebutu out of his philanthropic gesture and love for everybody deliberately supports and funds all political parties at all times as still presently occurs.
"However, at 57 years of age, I reserve the right to exercise my choice of opinion and willingly support the adoption of my colleague and friend Adekunle Abdukabir Akinlade of APM by the PDP Ogun State as the next best choice to myself," he said.
According to him, "In consonance with the anti-corruption drive of the country, I am precluded from supporting another candidate still having unresolved issues of oil subsidy/theft. Therefore, I hereby state my unequivocal support for Hon. Adekunle Abdukabir Akinlade of APM as the candidate to support for the gubernatorial election in Ogun State.
"In my opinion, I have found him to share values similar to mine and as such truly believe that he will honour the Memorandum of Understanding (MOU) that we have signed for the betterment of the people of Ogun State.
"We therefore, seize this opportunity to urge Hon. Adebutu's compatriots in PDP Ogun State to rise above partisanship and vote for Adekunle Abdukabir Akinlade in view of the legal strangulation of our party presently. Please be rest assured we shall overcome our travails in due course. We thank you the good people of Ogun state for sharing in our thoughts and believing in the vision of a greater Ogun State."

Load more