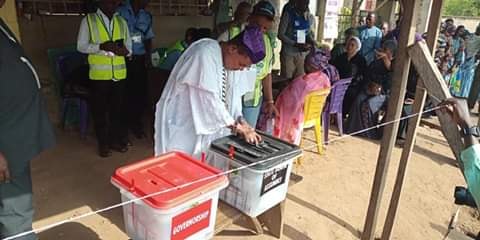 Gbenro Adesina/Ibadan
Alaafin of Oyo, Oba Lamidi Adeyemi III has cast his vote around 9.30am at Ward 1, Unit 8, Atiba Local Government, Oyo state.
The monarch, who commended INEC, stated that Oyo town had been peaceful while security personnel had been deployed to patrol the town.
Former Governor of Oyo State, Senator Rasheed Adewolu Ladoja cast his vote at Ward 10, Unit 10, Ibadan North L/G while Senator Olufemi Lanlehin voted around 10am at Ward 8, Unit 2, Nalende area of Ibadan Northwest LG.
Alhaji Sharafadeen Alli, governorship candidate of Zenith Labour Party (ZLP), who stepped down for Seyi Makinde of the PDP, cast his vote around 10.04am at Ward 3, Unit 22, Okearemo, Yemetu area, Ibadan North.
They all urged voters to come out and vote for their candidates as the election is going on peacefully.
END

Load more