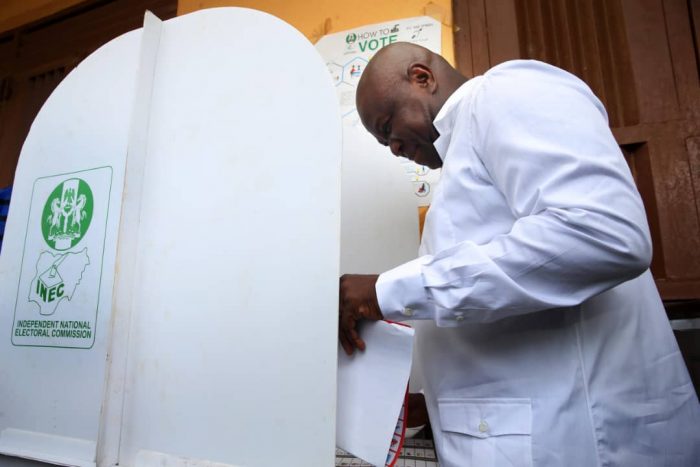 Kazeem Ugbodaga
Lagos State Governor, Akinwunmi Ambode voted in Epe on Saturday, decrying delay in commencement of voting in some parts of the State.
The governor voted at his Polling unit 033, Ward 5 around 9:55am in Epe.
Speaking with newsmen, Ambode thanked Lagosians for coming out to vote.
"Today, we have all decided that we are going to promote the real tenets of democracy by actually performing our civic obligation and coming out to vote. I have just finished voting with the First Lady and in this particular polling booth, everything has been very peaceful.
"I also understand across the State, voting is ongoing and somehow there have been reports of delays in some of these polling centres and we implore INEC to ensure that the voting materials and all the electoral staff actually come out quickly so that every body can have the opportunity to perform their civic obligations," he said.
Ambode said voting had been peaceful thus far, as security agencies were actually at work, while encouraging every Lagosians to come out and perform their civic obligations without threat or fear.
According to Ambode, "I believe strongly that in doing this we would continue to enhance the tenets of democracy and like you can see, we believe that with this, we are promoting the culture of one man one vote and then also improve on the State's well-being and the good governance that we have always enjoyed in Lagos State. I'm happy that I have done this and I will do it again."

Load more