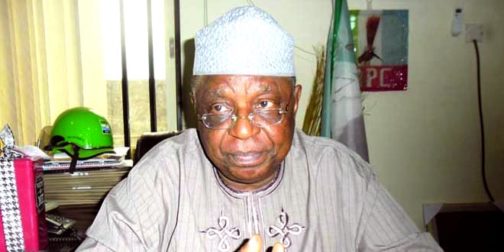 The immediate past chairman of the APC in Lagos State, Chief Henry Ajomale, on Saturday commended Lagosians for coming out en masse to vote for the candidates of their choices in the gubernatorial / State Houses of Assembly elections.
He gave the commendation while speaking with newsmen after himself and Mr Ganiyu Johnson had voted at their polling units in Okota.
Johnson is a former Commissioner for Works and Infrastructure in Lagos state and a candidate aspiring to represent his constituency at the House of Representatives under the APC.
INEC officials began accreditation for intending voters as from 9:45 a.m., at Polling Unit 013 of 09 Registration Area Code in Okota, a Lagos suburb.
Ajomale told reporters that the supposedly low turn observed in most polling units might be due to the fact that accreditation of voters and voting were just starting.
Ajomale said that it was too early to conclude that there was low turnout of voters.
He said that voting commenced earlier during the governorship/state houses of assembly elections compared to during the presidential election that started by 10.30 a.m., on Feb.23.
Also, an election observer, Mr Adetola Omotayo, said that the process was going on fine.
Omotayo said that it was too early to conclude that the turnout was low saying that there might be an impressive turn out later.
He said that the commencement of the voting time was strictly based on the arrival of the INEC officials.
However, another voter at the polling unit, Mrs Chika Ononiwu, said that she was not happy at the absence of the electorate there.
Ononiwu said he was saddened that the electorate did not turn up to vote.
She said that she was hopeful that before the close of election, there might be high turnout.
She said that with no queue, INEC officials would be able to attend to as many intending voters as possible as they come to perform their civic responsibilities.
There were security personnel on ground at the polling unit as well as at Polling Unit 012.

Load more