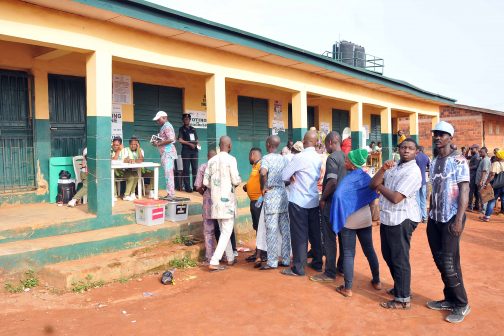 By Isa Isawade, Wole Adeboye, Yusuf Muhammed, Dedeigbo Ayodeji
Investigations by PMNEWS team at many polling booths in Lagos early today at Ojodu, Agege and Ikeja, showed that INEC officials and materials arrived late at the polling units.
At polling units 008 and 039 ward F on Kosoko Street, at Kosoko junction by Ojodu Berger bus stop, men and materials of INEC were yet to arrive as at 9.30am.
Party agents complained bitterly to the PMNEWS crew that they arrived at the units by 7am and were pained that there was no sign, beyond the chairs and canopies, of INEC's readiness to conduct election there.
They said they had sent delegates to the materials collection center of INEC at the Technical College at Agidingbi along Lateef Jakande road, Ikeja to lodge complaint and get information.
Same was the situation at polling units 17 and 18 ward F at Ojodu LCDA, Inside the ojodu grammar school at 9.45am. Party agents spoken to appealed to PMNEWS to help contact INEC officials in charge of the area.
Voters in unit 026, ward B opposite Excellent Hotel Ogba complained that they had been waiting since 8am without noticing any INEC official around.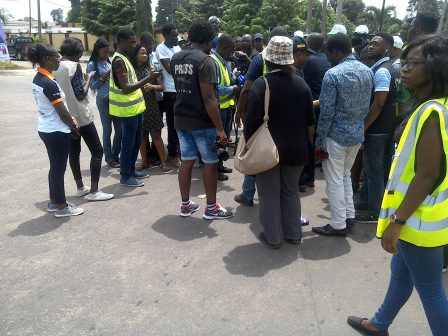 It was only at polling unit 020, Ward F inside Sogunro estate, along Ijaiye road, Ogba at 10.00am that some INEC officials, who had just arrived, were seen arranging their materials in readiness for accreditation and voting.
At ward C, polling unit 006, opposite Public Utilities Monitoring Assurance building on Adeniyi Jones, INEC and materials arrived around 10am. But at unit 046, Ward E, Ajao road, Ikeja Local Govt, INEC officials and materials were yet to arrive as at 10.15 when our correspondents arrived the unit. The voters who had been waiting to vote since morning were already becoming restive, believing that INEC was up to a mischief regarding conduct of election in the area.
Also at Agege, most of the polling units were yet to receive INEC men and materials. Even at Agage ward E, polling unit 026, where the speaker of the Lagos State House of Assembly is to vote, INEC officials and materials were yet to arrive at 10.20am.
At Alausa Ward F, polling unit 008 on Makinde street, INEC officials arrived at 11.15am. There was low turnout of voters.
The only polling unit where voters turnout was impressive was the polling unit 047, ward F on Sunday Adigun street where Asiwaju Bola Tinubu was expected to vote. Materials arrived at 11am and accreditation started immediately. The unit witnessed heavy presence of journalists and election observers, both local and international.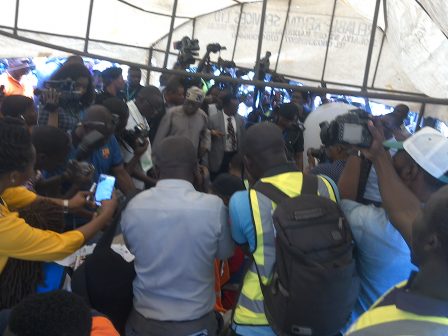 At Alhaji Olokodana and Modupe Shittu Streets , the presiding Officer were fully on ground. Shop owners were also observed selling their wares.
On LASU Road where Senator Solomon Adeola Olamilekan, representing Lagos west senatorial district, cast his vote some LAWMA officials were observed sweeping the express road.
At Alake street, most shop owners opened their shops. The polling booths were all empty. There was low turnout of voters in some. Generally, there is low turnout in Alimosho area of Lagos State.
Also in Nobex polling centre , the turnout is very low.
At Dalemo area, near Sango, Ogun state, some INEC officials were observed assisting disabled to vote. Some officials of the Nigeria Bar Association were seen monitoring developments in the area. A 26-year old man was also arrested in the area smoking Indian Hemp.

Load more