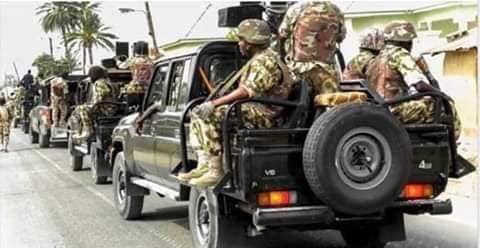 Okafor Ofiebor/Port Harcourt
Elections have started in Rumuagholu in Obio-Akpor local government areas. At Abonnema in Akuku-Toru as at 9am some people have started voting. So far, it has been peaceful, even INEC staff are set, voters are merely trickling into the polling units.
There are signs of voter apathy in Abonnema, but peaceful and calm in eight polling units visited.
Voters expressed happiness that materials arrived early and they are voting.
On Saturday morning, Abonnema, headquarters of Akuku-Toru local government, remained calm as at 9 am.
Recall that Abonnema was where three soldiers, including a Lieutenant were killed and some persons died during and after the presidential and national assembly elections.
Amidst fear and chocked presence of security personnel drawn from the military, police, Department of State Security and Civil Defence, polling units opened early in Rivers State.
Pre-election dawn violence has already claimed one life at Akinima, Ahoada West local government, when suspected thugs allegedly working for the Peoples Democratic Party, PDP, attacked the Independent National Electoral Commission, INEC, Registration Area Centre, RAC, and reportedly stabbed one youth to death.
An eye witness said the thugs invaded the INEC office at Akinima barring political party agents from gaining access to the facility.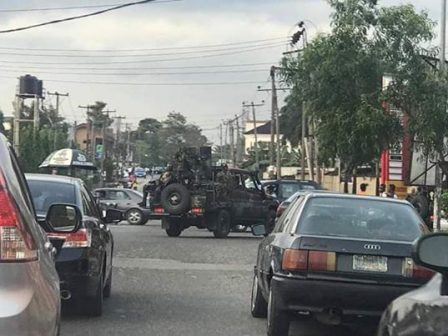 On Friday night, residents of some local government areas of the state witnessed influx of persons dressed in military uniforms but suspected to be members of the Neighbourhood Watch, an armed state-sponsored security outfit established by Governor Nyesom Wike.
Early Saturday morning, it was learnt that some gunmen had laid siege on the home of Dr. Gift Okere, a leader of the All Progressives Congress, APC, in Oyigbo local government.
Soldiers, Civil Defence and armed policemen were observed in strategic road junctions like Rumuokoro, Waterlines, INEC office on Aba road, Rumuokuta Junction, Eliozu, Garrison Junction and Ikokwu area.
A drive from Port Harcourt Township to Rumuosi and NTA Mgbuoba, men of voting age were seen playing football on main roads.
At Eleme, in Eleme local government, elections materials left registered area centre, at 8am. Elections started at about 9a.m. There are card readers with issues.
Voter are less in numbers, compared with the Presidential election.
In Okrika in Okrika local government, electoral materials left the RAC centres at 8am. Despite curfew imposed on the area because of the disturbances that happened a few days ago when the palace of King Ateke Tom and Guest House were allegedly raided by people in army uniform.
In Ward 6, where materials were hijacked in during the presidential election, voting started at about 9 am.
There was less security in the area compared to the presidential election.

Load more