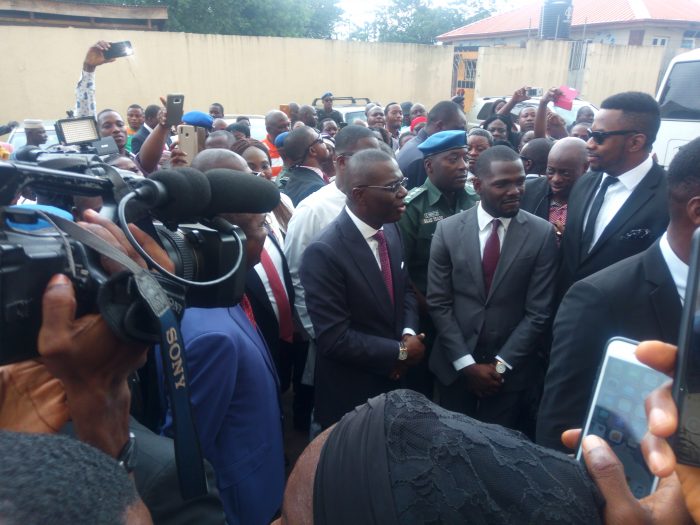 By Kazeem Ugbodaga
New Lagos State Governor, Babajide Sanwo-Olu resumes work on Thursday as he met with civil servants, charging them to rededicate themselves to work and vowed that he would rid the state of potholes, as well as tackle the issue of minimum wage.
Massive crowd welcomed the governor into the government secretariat, Alausa as he visited the Ministry of the Environment, Land and Physical Planning, where he addressed jubilant workers.
Sanwo-Olu moved to the Adeyemi-Bero Auditorium, where he met thousands of civil servants and later toured the secretariat, terminating at the Car Park where he promised to provide civil servants with 40 new buses to replace the dilapidated ones.
The governor said he had gone round the secretariat to see things for himself, saying that the first 'T' in his policy thrust, 'THEMES' stood for Traffic Management and Transportation, adding that this would be the first thing he would tackle.
"We will look for ways to solve traffic in Lagos State. We have to start from our home and one of the things is to speak with the Head of Service to re-fleet all buses immediately. Our job is a tough one but we will do it. I will give you transportation, but you have to rededicate yourself to work. I will give you between 30 and 40 buses in a couple of days," he said.
The governor disclosed that his administration, anytime from now would make a pronouncement on tackling the issues of potholes and bad roads in the metropolis.
He said he was aware of the situation within the secretariat and that he would fix everything, adding that residents of Lagos would begin to see new things, even though there would be challenges.
Sanwo-Olu stated that civil servants could not afford to fail Lagosians now as they must brace up for the challenges ahead.
"I know there is no light, no benches, but let us think and innovate on how to bake a bigger cake. We will sort out the issues around minimum wage. Lagosians have to feel you from day one. I love you all," he said.
Load more