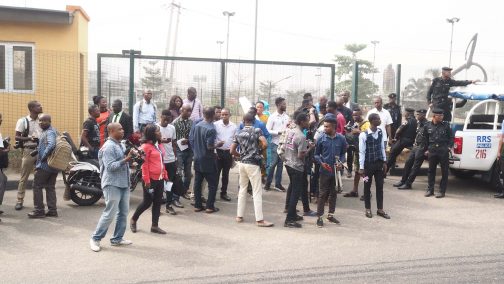 Some protesters and journalists in front of Gani Fawehinm park, venue of the proposed Pro Amotekun protests in Lagos, this morning. Photo by Ayodele Efunla.
By Taiwo Okanlawon
Armed mobile policemen on Tuesday took over Gani Fawehinmi Park in Ojota, Lagos, the proposed venue for a peaceful protest code-named "Amotekun Solidarity Walk" organised by Yoruba World Congress,
an umbrella body of all Yoruba Socio-cultural and self-determination groups.
The peaceful protest was supposed to take place in all South-West states, to support Operation Amotekun, a security network recently established by governors of South-West Nigeria.
Our correspondent, who was at the venue noticed a heavy presence of security personnel in major recreation parks.
The Police officers who barricaded the already paid-for-venue did not give any reason for their actions.
YWC, the socio-cultural group had called on Yoruba sons and daughters to come out in large numbers on Tuesday to participate in a rally to support the security network recently to wage war against insecurity across the region.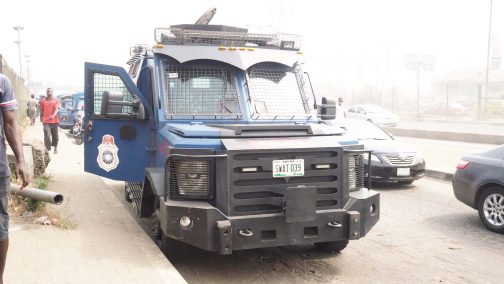 Speaking with journalists about the development, Lagos State coordinator of Yoruba World Congress John Adeola Akinola said Amotekun is a protective force for Yoruba land and it must be allowed to stand.
According to him, "This rally is a peaceful rally in support of the governors of the southwest states including Kwara and Kogi, who have decided to set up a force called 'Amotekun' which is supposed to work with the police and other security agencies to protect Yoruba land; its people and their properties from killers, robbers, kidnappers, ritualists and all those terrorizing our people.
"That is what we have come to tell Nigerians here, we paid for this venue but for reason best known to the Nigeria Police that they are saying we cannot enter, and we are very peaceful with this because this is in support of the governors of the southwest."
"Nigeria is a democratically free society, it said in the constitution, so we have the right to gather peacefully, we also have right to talk and associate peacefully and this is why we came to the police, we are not doing it behind them, are we carry guns and ammunition? But our voice must be heard and the voice is the voice of Amotetun, that we have the right to protect the lives and properties.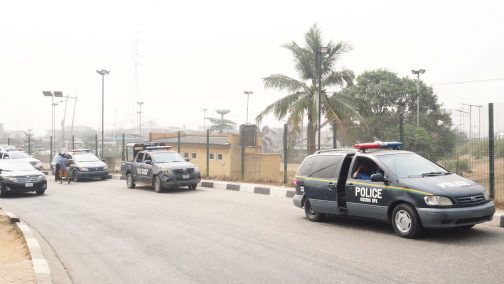 More than a dozen police vehicles parked around the Gani Fawehinmi Park in Ojota, Lagos. Photo by Ayodele EfunlaAdeola further said the Yoruba race has been subjected to "all sorts of indiscriminate oppressions and we will not allow it anymore."
"Our message is that Amotekun will stand, it is a protective force for Yoruba land and it must be allowed to stand," he added.
Meanwhile, various groups under the platform of Yoruba World Congress in Oyo, Ogun, Ekiti, and Osun staged their rallies in support of the implementation of "Operation Amotekun".
In the rally held from Government Arcade, Agodi, Ibadan to the state secretariat, Ibadan, hundreds of supporters held banners, rendered songs and chants maintaining that there was no going back on Amotekun. While A cleric and key members of hunters as well as members of Oodua People's Congress (OPC), among other stakeholders were part of the solidarity rally held in Ado-Ekiti, the Ekiti State capital.
Also in the rally were members of the National Association of Nigerian Students(NANS), Vigilante Group of Nigeria, Yoruba Koya, Man 'O War, Oodua Union, Ekiti Council of Elders, Agbekoya Movement and other members of the society.
In Osun, the group that thronged out consists of Agbekoya, hunters guides, and other stakeholders converging at the Nelson Mandela Freedom Park Osogbo at about 9:20 am before it commenced procession through major streets of the state capital.
Load more