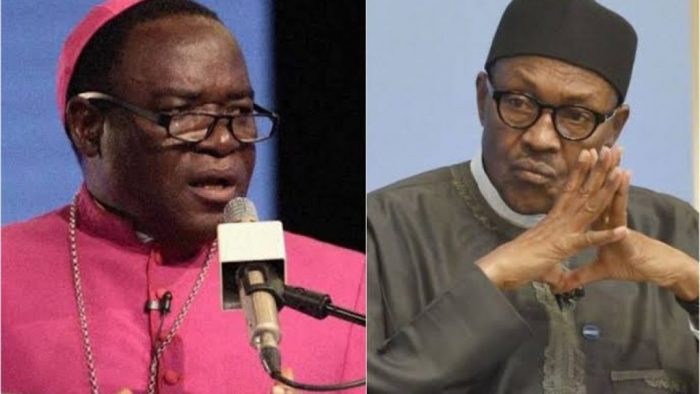 Nigerians on Twitter have backed Bishop of Sokoto Catholic Diocese, Mathew Kukah over his attack on President Muhammadu Buhari on rising insecurity in the country.
The Catholic Bishop had said the president was running the most nepotistic and narcissistic government in Nigeria's history
He also accused the president of bringing nepotism and clannishness into the military and the country's security agencies.
However, twitter users have expressed support for Kukah for telling Buhari the blunt truth.
Read reactions below:
I have read Bishop Kukah's homily 3 times & I assure you that these were not the words of Kukah alone but rather the Holy Spirit speaking through Him. He spoke the mind & the oracles of the Living God. Buhari would do well to take heed, humble himself & appreciate His counsel.

— Femi Fani-Kayode (@realFFK) February 12, 2020
Bishop Kukah has been speaking truth to power even when those he considers friends depart from the path of uprightness. If PMB's govt is all what you now proclaim, why did you try to replace him? Sometimes, we must learn to heed wise counsel and not defend indefensible actions.

— Mazi Gburugburu (@Mazigburugburu1) February 12, 2020
I have never read something that made me shrink, my pride, my voice, my beauty, everything fading as his words got intense.
This is my soul
Bare as it is#kukah#theabsolutetruth https://t.co/GRArako0ET

— Ukung Iye Alawa. (@Ukung_iye) February 12, 2020
The attacks on Kukah are not surprising but make no mistake: it is not religious in this instance – those engaged in it will as soon attack a Bishop Kukah as they would attack a Sheikh Gumi or anyone who refuses to worship Buhari.

APC is like a cult which's sole hero is Buhari.

— Demola Olarewaju (@DemolaRewaju) February 12, 2020
Bishop Kukah has been speaking truth to power even when those he considers friends depart from the path of uprightness. If PMB's govt is all what you now proclaim, why did you try to replace him? Sometimes, we must learn to heed wise counsel and not defend indefensible actions.

— Mazi Gburugburu (@Mazigburugburu1) February 12, 2020
Bishop Kukah's desperation got to originally to attempt to dryclean Atiku by getting OBJ to "forgive" him in an attempt to influence the last election. That Atiku lost compounded his frustrations. He will wail uncontrollably till 2023 and beyond but nobody will rescue him!

— El Commandante (@MrLekanAdigun) February 12, 2020
"We are solemn witnesses to the penetrating darkness that hovers over our country."- Kukah.

Bishop Kukah is a great Man. An engagement with him will leave a lasting positive impact on your personality. May God grant the families of the bereaved fortitude in this trying time. https://t.co/VsjlkY5SXZ

— Deji Teye (@mydeji247) February 12, 2020
Even if the exact thing Bishop Kukah said is that Nigeria is not worth dying for, it's not a lie. Even our own President never risks his life for the love of the country, he flees to UK once he sneezes or his ear itches. No point arguing with people who are paid to have opinions!

— Ayò Bánkólé (@AyoBankole) February 12, 2020
Bishop Kukah has watched his brothers get Murdered by Boko Haram.

And watched the terrorists get released.

He has watched Herdsmen slaughter his Brothers and zero Justice delivered ( Miyetti Allah even brags about it).

A country with no justice is not worth dying for, period.

— William Ukpe (@William_Ukpe) February 12, 2020
After reading Bishop Kukah's homily on your behalf, I was consoled.

The God that marked out this pathway for you knows more than we do. You're the martyr for the faith. Rest on Michael. We're happy you're in heaven 🙏♥️ pic.twitter.com/GtX6dd6vLz

— Frank Opara (@fopara03) February 11, 2020