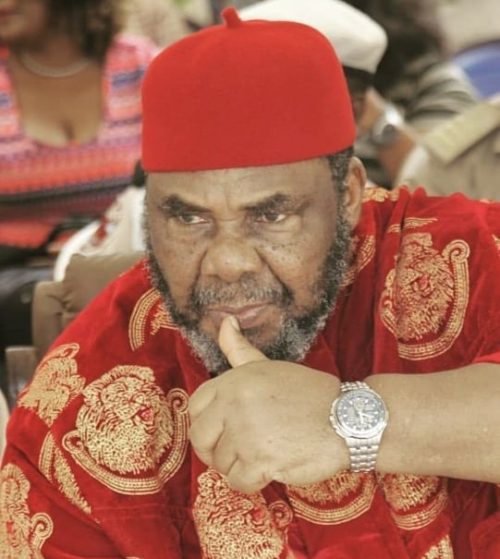 Veteran Nollywood actor, Pete Edochie, has set tongues wagging as he kicked against the idea of Nigerian men getting down on their knees to propose marriage to women.
The 72-year-old actor in a video circulated on social media on Thursday was captured giving his opinion on the matter by saying, "Any young man who gets on his knees to propose to a girl, is not just an idiot, he's a bloody fool, a compound buffoon".
The 'Lionheart' star said the act is a replication of the foreign culture that translates to the woman taking over the family.
"We are trying to copy white people, right? I believe in the sacrosanctity of our culture, the essence and the core of our culture," he said.
"The white man kneels down to propose to a girl, you know what it means? The girl takes over the family. This is why whenever you disagree with your wife overseas, you are kicked out and the wife takes the house. As a young man, you should be in charge of your destiny. Kneeling down for a woman makes you a fool".
When told that it's an act of civilisation, the veteran actor said he does not believe the practice signifies love or civilisation.
"I have lived with my wife for 51 years, nobody has come to say 'please stop beating this woman'. Is it hatred that united us?" he asked his interviewer.
The actor joked that men who insist on going on their knees to pop the question, risk being kicked out of the house by their wives.
"Kneel down before your wife and I'll sympathise with you when she takes over the home," he said.
This is not the first time the actor would court controversy over comments around marriage and relationships, he once said "A marriage is recognised when a woman offers her future husband wine on her knees, signifying his authority. Therefore, the wife should kneel before her husband and not the other way round."
However, Nigerians took to Twitter to give their opinion on the veteran actor's statements. Many on the microblogging platform criticise Pete Edochie, while some opined that his comments were valid.
A Twitter user wrote: "Another proof that Nigerians can't differentiate Nollywood from Reality. Everyone automatically respects Pete Edochie's opinion because they have deceived themselves into thinking he's filled with wisdom because he spews cliché proverbs in Nollywood movies. Tragic"
Another Twitter user said: "Papa Adeboye (who has been married for 53 years) and Pete Edochie (who has been married for 51 years) shared their views on marriage and relationship, you're bashing them. You can't even keep a relationship for 6 months."
Isa Mubii wrote: "I have always said it, our generation thinks they know better than our fathers and mothers. Yet, we are the ones with a high rate of domestic violence, divorce, spousal killings, sad marriages. This means there is something our parents did right that we are doing wrong."
"This made literally no sense and his logic is flawed. There's a reason people sign prenups as they get married," A Twitter user opined.
Samuel said: "Nigerians believe whatever comes out of the mouth of an "elder" or old person is ALWAYS correct."
Gabrielle wrote: "No offense but someone needs to collect his walking stick… lay him on the floor… and beat him"
Another Twitter user said: "My thoughts? It's alright. It's just a reflection of the era he grew up in. At least he has been married 51 years. That's most important.
"It's like when my father says Pelé is the greatest player of all time. I just let it slide. You don't expect an old dog to learn new tricks."
What's your opinion on Pete Edochie's statement?