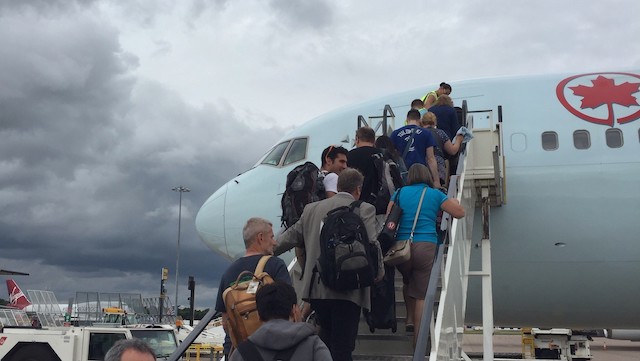 Air Canada said a passenger on one of its flights from Montreal to Vancouver on 14 February has tested positive for COVID-19.
Canada's Global News reported the airline as saying it was advised by health authorities on Saturday about the passenger, who flew into Vancouver on Feb. 14.
"Air Canada is working with public health authorities and has taken all recommended measures," a spokesperson said in an email Sunday.
The BC Centre for Disease Control (BCCDC) is following up with other passengers on that flight to inform them of the news, Air Canada added.
Global News has reached out to the BCCDC and Provincial Health Services Authority for more information.
It's not yet clear whether the passenger is one of the six cases of the new coronavirus already announced in the province.
According to scientists, like the flu, COVID-19 is spread primarily via respiratory droplets—little blobs of liquid released as someone coughs, sneezes, or talks. Viruses contained in these droplets can infect other people via the eyes, nose, or mouth—either when they land directly on somebody's face or when they're transferred there by people touching their face with contaminated hands.
Because respiratory droplets are too heavy to remain suspended in the air, direct person-to-person transmission normally only happens when people are in close contact—within about six feet of each other, according to the US Centers for Disease Control and Prevention (CDC). It could also occur in a medical setting, if someone has to handle respiratory secretions such as saliva or mucus from an infected person.
Initial reports from China state that the majority of transmissions have occurred either among family members or between patients and health workers.