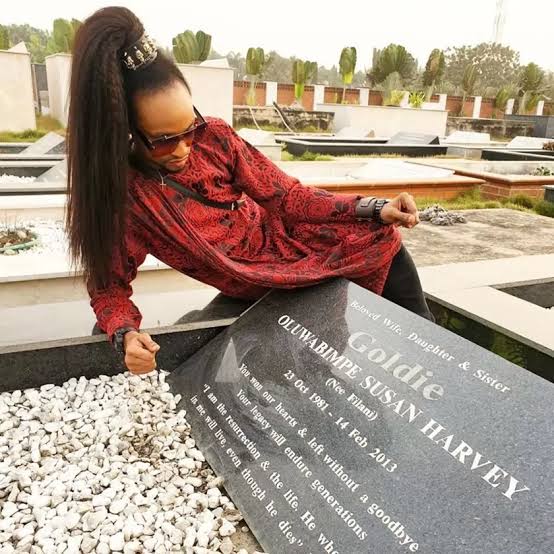 Nigerian media personality, Denrele Edun has disclosed why he has been visiting late Nigerian singer, Goldie's grave seven years after her death.
Goldie, whose real name is Oluwabimpe Susan Harvey, died in 2013, from hypertensive heart disease, after a 12-hour flight from the US to Lagos where she had attended the Grammys.
The Big Brother Africa star was confirmed dead on arrival at the Reddington Hospital in Victoria Island, Lagos, putting a sad end to a short but radiant and triumphant career.
Goldie's close friend, Denrele Edun, has been visiting her grave on Valentine's Day which is the anniversary of her death. While some have commended his commitment to his deceased friend, others insinuated that he was doing it for publicity's sake.
The media personality has disclosed that the visits to Goldie's grave were his own way of keeping the singer's memory alive.
He told Punch's Speaking to Punch's Sunday Scoop, "I go there every year and I can authoritatively say that I have been the one going there for the past seven years. It is not about going there because I want to get attention or I want to be in the news. No, it is my own little way of protecting my friend's legacy and making people remember her. I am not going to come up with a controversial agenda.
"It is my little way of letting people remember that there was once a Goldie, there still is a Goldie and there will forever be a Goldie. Anytime I do that, people remember her. Some stations play her music and it might just be for that day but somehow, she is remembered, appreciated and loved on Valentine's Day.
"No matter my schedule, I make sure I visit her grave every Valentine's Day. It is so weird because the guards at the grave usually expect me. That is the only way I can communicate with her."
Speaking about relationship with the late singer's family, Edun said he had not been in touch with the family.
"I have not been in touch with them since she passed on. I have no idea if anyone has been there. We all mourn people differently. When she initially passed on, we were in constant touch but time passed and everyone has gone their separate ways," he said.
The former television presenter also maintained that he would continue visiting Goldie's grave until he got a revelation to do otherwise.

Load more