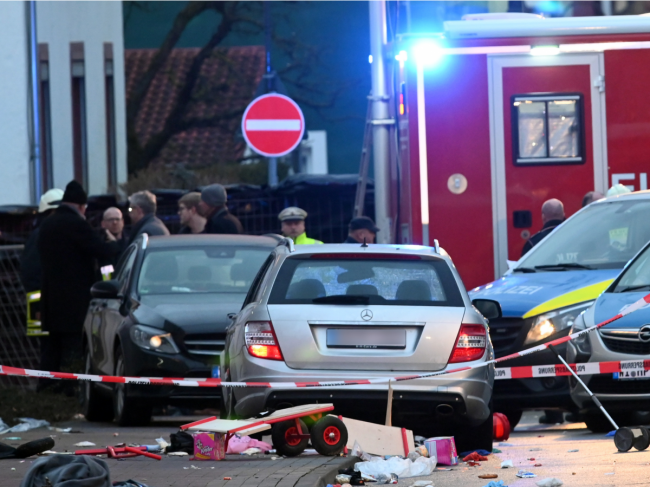 About 60 people, including 18 children, have reportedly sustained various degrees of injury after a car plowed into a carnival crowd on Monday in the western German town of Volkmarsen.
According to media reports, a silver Mercedes car was driven into the crowd during the Rose Monday carnival parade in Volkmarsen, a town with about 6,800 people, at 2:45 p.m. local time on Monday.
The driver, a 29-year-old German national from the town, was arrested at the scene and was then being treated in hospital for injuries associated with the crash, prosecutors in Frankfurt and police of the state of Hesse said on Monday.
Authorities are suspecting an attempted homicide, but the motive of the perpetrator is still subject to ongoing investigation.
German news agency dpa quoted prosecutors as saying that the driver had not been under the influence of alcohol, contrary to what some media had previously reported. German newspaper Bild quoted an investigator as saying that psychological problems may have played a role.
According to Xinhua, authorities confirmed on Tuesday that a second man was provisionally arrested at the scene on Monday and was accused of filming the incident.
On Monday, many places in the western part of Germany were celebrating Rose Monday, the height of the country's carnival season.
Shortly after the incident, the police of Hesse announced that all carnival parades in the state on Monday were called off as precaution.
The Hesse police noted on Tuesday that although more carnival processions were planned for Tuesday, there was no concrete indication that the risk has increased, but they advised the organizers to intensify security if necessary.
German Chancellor Angela Merkel on Monday commiserated with the injured and their families over the unfortunate incident, saying her thoughts were with them.
She wished the victims a speedy recovery, the news agency quoted government spokeswoman Ulrike Demmer as informing on Twitter.
Xinhua recalled that the Volkmarsen car incident came just days after a racist gunman shot and killed 11 people, including himself, in the city of Hanau in Hesse last week.