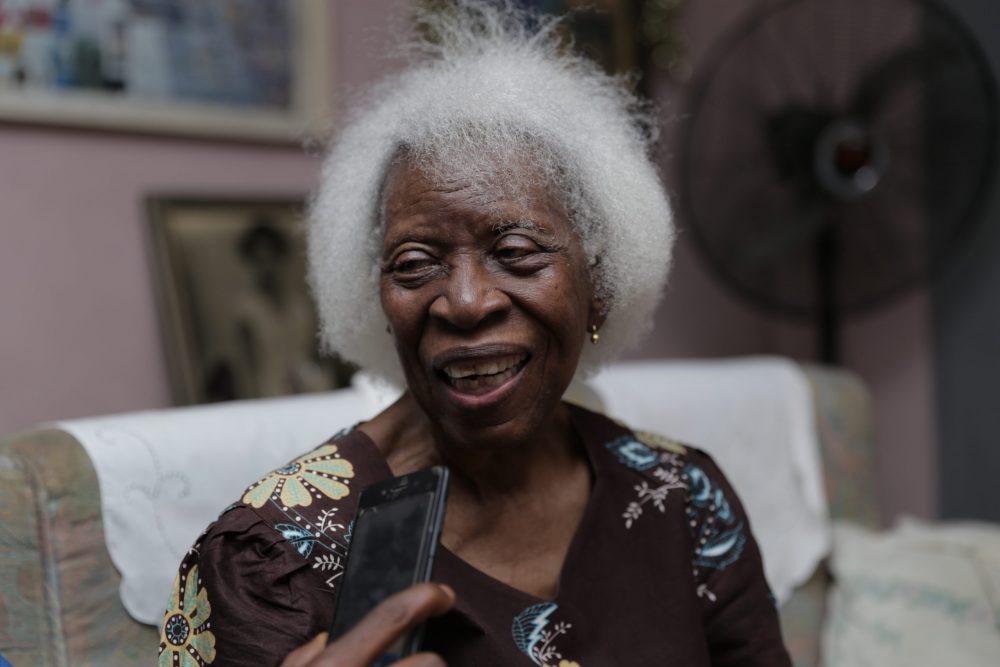 By Nehru Odeh
Her name precedes her like a lion's mane. Not only has she been at the forefront of children's literature in Nigeria, she has excelled in other fields of endeavour such as sports, broadcasting, poetry and education. And so when the first opportunity to meet her came at the popular Room 32 in the Faculty of Arts, University of Ibadan, that was significant enough.
That was in 1990, when she presented a poetry prize I had won as a university undergraduate to me at the Popular Room 32, Faculty of Arts, University of Ibadan.
That evening, the light emitted by the electric bulbs cast dark shadows over the room, and I could only catch a glimpse of her, the woman who played table tables with agility and beat her male opponents and whom Bola Ige called the matriarch of Nigerian Literature..
However, the second opportunity came 30 years later, on Tuesday 18, February 2020.
Time was a galloping horse.
As I made my my way to her Surulere, Lagos residence, silence welcomed me. A certain stillness that seemed to be in a conversation with umbrella trees in front of her bungalow, led me inside. And there she was, the legend, the Renaissance woman huddled in a couch, resting and recovering from a bout she had had with diarrhea.
"Mama is sleeping," Omowunmi Segun, her daughter and award-winning writer and editor, said, welcoming me; smiles dancing on her lips. "She'll soon be with you. But first let me let her know that you' are here," she continued. Minutes passed, and, after the matriarch had been informed, she woke up, her fluffy, silvery hair resplendent like the sun on a gloomy day cast an aura around her.
The room was spare and bare yet rich with literature and experience and, reminiscent of one who has led an ascetic life.
But Segun is no ascetic but a writer with modest means but immensely  rich with ideas; one  who does not give so much importance to material wealth because she measure wealth by the number of books one has read and lives one has impacted. "People no longer read. I wonder how they live without reading," she said. And Robert Frost's   popular poem, The Road Not Taken came to mind.  Segun had, indeed, decided to take the solitary road and that made all the difference
The air in the the room was thick with smell of writing and the writerly life, a life spent in an endless conversation with books. The air educed warmth like two lovers in a warm embrace. The two ceiling fans in the room whirled quietly, doling out certain coolness associated with a life lived in contentment.  And shelves, communing with, books, certificates and plaques stood as sentries asking me to take my seat on one of two office chairs standing close to the door.
But I stood still, thinking whether I was qualified to sit on such an exalted seat.
"I used to walk unaided," she said again, and the image of a woman who had led a very active that cuts across several disciplines loomed large.  She looked weak and enervated but educed steeliness and certain courage associated with the gods. And the certificates, awards and trophies she had won were not just intimidating but also glistened like jewelries on display in a gems shop
 "I am the first person that wakes up in the morning. When I go to the kitchen, I wash the plates and so on, I do my own sewing. Up to the age of 70 I sewed my own clothes. I also made my own dresses in university,"  she maintained, trying to paint a picture of a woman still strong but battling with the vagaries of time and age. "You can take a look at my certificates, plaques and books while you wait for the interview."
Her voice was weak but strong and full of energy, self-confidence and wit. And she had a sense of humour that was infectious and unassailable..
Welcome to Mabel Segun, the woman who wrote My Father's Daughter so well that it became not just one of the canons of children literature, but also a recommended text in schools across the globe. Here is the "Honorary Gentlemen (as she called herself)   who was always in the company of boys while growing up but never got raped. Here is a woman who wears many distinguished hats: a multiple award-winning writer, table tennis champion, poet, teacher, broadcaster, dressmaker, badminton player and a sport personality. Here is a woman who breathed the same rarified air and drank from the same cup with literary legends such as Chinua Achebe, Christopher Okigbo and Bola Ige. And she had a lot of reminiscences to share about these literary giants.
The literary legend will always remember how Okigbo took her bicycle and went away with it for days.  "Okigbo was one kind of funny character," she said.  "I was able to handle him because I remember the day he annoyed me so much. He borrowed my bicycle.  He said he would return it. And the next thing I didn't see my bicycle.  Although these days, I look back and ask myself, 'Why did he keep the bicycle for so long?' I begin to feel it was to entice me to come over. I didn't think so at the time. I was just angry, she told TheNEWS." But did she go over? The writer famous for writing My Father's daughter said she didn't fall for his plans. "Of course, I didn't go over," she reminisced.
Segun gave a picture of a woman who though 90 still has so much strength in her bones and so much to offer her fatherland. "I am still going to deal with that because we are going to write a new version of the biography of my father, she says, brimming with promise and hope.
A table Tennis champion, she spoke about her forays in sports, how she had beaten her male counterparts and the sacrifices she had made to make sure that she nurtured younger athletes. She bemoaned the fact that those who have taken over sports in Nigeria don't recognize the athletes that came before them.
"This is why I don't feel happy with our people who take over. They behave as if they were the ones who invented table tennis. Well, as we started many years ago we make sacrifices, men and women. Before we had cars, we would hire taxis and go and fetch the young girls to come and train. We were doing all that because government did not sponsor us, didn't help us; unlike in Ghana where they had everything that was good; everything that they needed they were given," she laments.
When asked about why she had to write My Father's Daughter, Segun, who was very close to her dad, averred she wrote the book to tell the world how great her father was, how he took her everywhere he went, especially to his farms and Scout meetings, how he wrote the Yoruba song, Ise Agbe Ni'Se Ile Wa:
Ise Agbe ni'se ile wa
Eni ko si'se,
A ma j'ale
Iwe Kiko
Laisi oko
Ati ada
Koi pe o
Koi pe o
(This means that book learning is not enough; you should also complement it with manual labour,  like farming).
"Some people who didn't have better fathers said it was fiction. I said, 'Well. if you didn't have the kind of father that I had then there is no point  in trying to belittle my own father. My father was a great man.' And it was proved when, 50 years after his death, they exhumed his body and took it back to our home town and promoted him Archdeacon. They said the work he did was more than being an ordinary priest."
Still, in spite of her deep religious background, Segun is under no illusions about the rot that goes on in the church. That's why she said she doesn't go to church.   "My father was my role model.  He was a great man, a real great man. The church is full of sin these days. I don't go to church. I have to speak the truth because I don't like what goes on there. My father was a number one Christian. I don't go to church, not because I don't believe in the tenets of the church but because there are more criminals in the church than elsewhere. To speak the truth, there are more criminals in the church than elsewhere. You can quote me. My daughter won't like it. She likes me to keep quite on that. But we believe the same thing."
As she talked she munched on the biscuits in front of her, perhaps to get more strength. The crunching sound that the biscuits made was music to my ears.
But how does she see life? Does she believe  it is worth living? Segun who had led an adventurous life and participated in different endeavours, winning laurels said though life is full of surprises, it is worth living. "It's full of surprises. That's all. It's worth it. I think so (laughs). The struggle is good. I had to struggle all my life.  And I think that was what made me what I am today. I struggled for things.  And I don't like anybody ride over me. Never," she maintained.
The matriarch of Nigerian literature, who carried her silvery white hair with pride, says she would like to be remembered as one who loved her fellow men. "Well, I am not going to be original in this.  I want to be remembered as one who loves his fellow men. That is why I tried to do things to benefit Nigerians Unfortunately, there are too many people doing the opposite. What can I do?" she lamented.
Still, the love she has for her country, Nigeria is unwavering and as solid as Olumo Rock, as she intends to return to Nigeria in her next life but as a changed Nigerian. "I would come back as a changed Nigerian. I won't let them get as bad as they have gone now.  Every time we take one step, we get worse and worse and worse, "
And when the conversation was about winding up, four journalists joined us. And as they were taking photographs with her, she jokingly said: "All of you are bigger than me." Roars of laughter almost shook the foundation of the building.