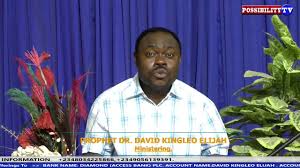 A Nigerian Pastor has vowed to go to China to destroy the deadly Coronavirus that is spreading fear across the world.
Prophet David Kingleo Elijah, General Overseer of Mount of Possibility Church, Ojo, Lagos, in a church programme said he could not be a prophet and people were dying of Coronavirus in China.
"I am going to China to go and deal with Coronavirus. I am going prophetically to destroy Coronavirus, I am going to China, I want to destroy Coronavirus, give me children, give me children there, where there is a prophet, people will not die.
"I am a prophet, I cannot be in this world and China is dying. It is not possible," he said.
Watch video here:
[videopress 39AKJ0DA]