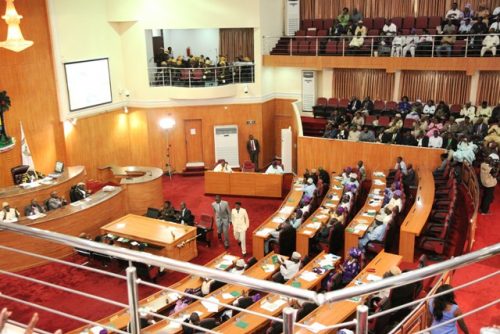 Lagos State House of Assembly's Committee on Housing has summoned the Contractors responsible for the delay in the delivery Sangotedo Housing Scheme in Eti Osa Local Government area of Lagos State to a meeting and issued them ultimatum to complete the project.
The meeting was a follow up of the joint inspection of the scheme by the Lagos State House of Assembly committee on Housing and the Commissioner for Housing, Moruf Akinderu-Fatai over the weekend.
At this meeting, the Chairman of the Committee, Bisi Yusuf expressed great displeasure over the unnecessary delay in the delivery of the housing scheme while also lambasting some of the contractors for the shoddy work being done.
He said "the need to reduce housing deficit is quite critical and any one serving as an obstacle should be brought to book."
He expressed the determination of the House Committee to support the Ministry of Housing by bringing all erring and recalcitrant contractors to book.
Yussuf also warned that contractors who failed to yield to the warnings given by the House Committee will have their contracts redetermined and be made to refund excess payments to the State Government.
Speaking on this development, Commissioner for Housing, Moruf Akinderu-Fatai expressed delight at the stance of the House Committee.
"I am happy that the House committee is lending a helping hand in putting pressure on the contractors as many of them had become a clog in the wheel of progress."
He pointed out that several meetings were held with the contractors to ensure compliance with standards and work plans, noting that site visits are being conducted regularly to ascertain quantity and quality of work, however because of the fact that the contractors had been on the project for an extended period of time had actually made them feel too comfortable and lackadaisical.
The Permanent Secretary, Mr Wasiu Akewusola also pointed out that the present administration will no longer tolerate any incompetence on the part of contractors as definite articles in the contractual agreements will be invoked as sanctions against erring organizations.
Some of the contractors summoned to the State House of Assembly are Palmyra Ltd, Hinveir Ltd, Biorem Nig Ltd, OJ Krystal Ace Ltd, Laranod Ventures, Hazelbury Ltd, Alybak company, Neesarm ventures Nig Ltd, and Bomis Ltd.
The Committee gave an ultimatum of April 29, 2020 for the submission of keys by all contractors involved.
Sangotedo Housing Scheme commenced in 2013 and was proposed to deliver over 1000 homes to Lagosians. The present administration revisited the project with a determination to complete it before April 2020.

Load more