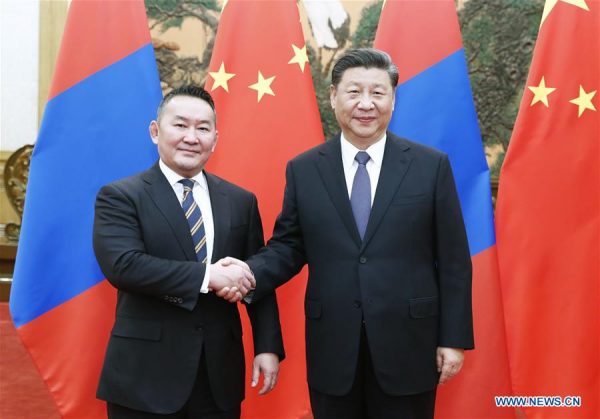 Mongolia President Battulga Khaltmaa and his officials went to China to show solidarity with the Chinese people in the season of coronavirus, but on their return on Friday they were all placed in quarantine.
State news agency Montsame said they would be in quarantine for 14 days as a precaution. The country, though China's neighbour, has no case of coronavirus at the moment.
Battulga is the first head of state to visit China since the country began implementing special measure to curb the coronavirus outbreak in January.
He arrived in Beijing with Foreign Minister Tsogtbaatar Damdin and other senior government officials on Thursday, and held a meeting with Chinese President Xi Jinping and Premier Li Keqiang.
They were taken into quarantine as soon as they arrived in Mongolia as a precautionary measure, Montsame said.
Chinese President Xi Jinping praised Battulga as the first foreign head of state to visit China since the outbreak.
Xi said the special visit by Battulga to express consolations and support to China fully embodies the high attention he pays to the China-Mongolia ties and the profound friendship between the two peoples.
This vividly shows that China and Mongolia, as neighbouring countries, can rely on each other in difficult times, said Xi.
Xi expressed his welcome as Battulga paid the visit only one day after Mongolia's traditional Tsagaan Sar holiday, and sent festive greetings to the Mongolian people.
Xi said that since the outbreak of COVID-19, the Communist Party of China (CPC) and the Chinese government have attached great importance to the epidemic, activated a national response mechanism and taken the most comprehensive, thorough and rigorous measures.