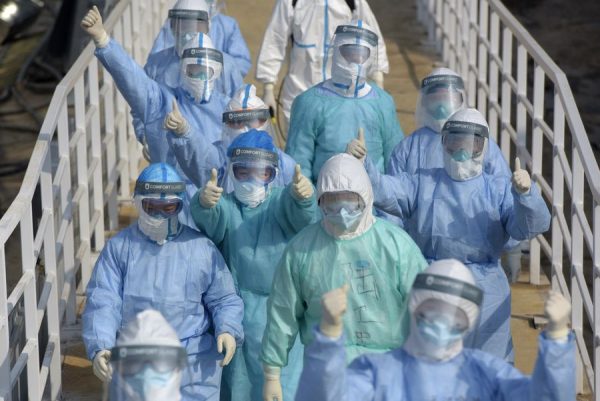 Since the first case of CoronaVirus(COVID-19) was confirmed in Lagos on Thursday, February 27th, 2020, Nigerians have taken different preventive measures against the virus, including sharing their opinion on social media as regards the Italian man who brought the disease into Nigeria.
The 44-year-old Italian patient who had flown in from Milan, a city badly hit by the coronavirus outbreak – is clinically stable, with no serious symptoms, and is being managed at the Infectious Disease Hospital in Yaba, Lagos.
See some reactions…
If 28 people that made contact with the Italian man are quarantined, what about the people that made contact with the 28 people? 😟 #coronavirusinlagos pic.twitter.com/ZfNTZ65BTF

— AREWA LOST SON (@kinghenzee) February 29, 2020
China is not playing they are more serious than ever. Let our government also take this one case very serious . Have they been able to track the passengers on the flight? #covic19 #coronavirusinlagos pic.twitter.com/0h2P2qa9jt

— Edes Rosuo Betty (@Bee3forGod) February 29, 2020
Guys, we have survived 5 years of Buhari, 8 years of Obasanjo, 16 years of PDP, 21 years of Tinubu and his geng, 60 years of this shit we call independence, I'm sure we'll survive this #CoronavirusinLagos thing as well.

Just take necessary precautions and share facts not fear.

— The Sultan Grey (@thesultangrey) February 29, 2020
China is disinfecting entire cities👏.

A move I'd like the Nigerian Government to adopt! #coronavirusinlagos#COVID19Nigeriapic.twitter.com/tD2nMTrEh5

— Zaddy (@Zaddy_Clinton) February 29, 2020
#ooin You are doing well, message passed with a comic relief. #CoronaVirusInLagos

— Da Mayor of Tweet City 🌎 (@iam_damayor) February 29, 2020
#coronavirusnigeria#coronavirusinlagos#COVID19Nigeria

**When someone coughs, sneezes or spits around me.

Me: pic.twitter.com/J5DKTYREPC

— Ojei Oge (@theduke698) February 29, 2020
Someone said Zobo leaves can cure corona virus, Nigerian and thier superstition sha 😂😂😂#coronavirusinlagos pic.twitter.com/QuygkPczJe

— Mr Common Sense (@Akmonabiodun) February 29, 2020
#coronavirusinlagos since face mask is now very expensive ,why not try this inexpensive methods and get yourself together. Retweet thank you…. pic.twitter.com/67oFZ6SRJ8

— YOUR GIRL IS A BARBER (@Ladeh96) February 29, 2020
The Italian patient was screened when he arrived at the Murtala Muhammed International Airport in Lagos on Tuesday and did not show any symptoms of the virus, according to Nigerian health authorities.
They have obtained the passenger manifest from the airline and started tracking people who had contact with the patient, Health Minister Osagie Emmanuel Ehanire said.
He added that there was no need for alarm as Nigeria was well prepared to deal with the disease, adding that the country had four laboratories where patients can be tested.
At least 60 doctors have been deployed to Lagos's main airport to support the ongoing screening effort.
Health authorities are advising people to regularly and thoroughly wash their hands with soap and water, and use alcohol-based hand sanitizers, to avoid contracting the virus.
People have also been told to stay home if they have persistent coughs and sneezes, and contact authorities if they have any concerns.
More than 2,900 people have died and over 85,000 have been infected worldwide since the virus emerged apparently from an animal market in the central Chinese city of Wuhan in December.
The vast majority of infections have been in China but more daily cases are now logged outside the country, with South Korea, Italy, and Iran emerging as major focal points.
Nigeria was widely praised for its efforts to contain the Ebola outbreak in 2014 which killed more than 11,000 people in West Africa.