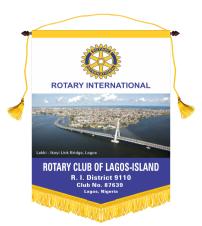 The Rotary Club of Lagos Island (RCLI), District 9110, on Saturday trained no fewer than 35 Nigerian graduates on how to write formal documents to access their choice jobs.
The training, which took place at Ishk Tolaram Foundation, Fadeyi, Lagos, had to do with writing presentable curriculum vitae, comportment during interview sessions, developing confidence and general interview skills.
The resource person, Mr Cyrus Ogbanga, from Harebridge Nigeria Ltd., noted that a good number of Nigerian graduates were denied employment due to lack of good writing skills and poor comportment during interviews.
Ogbanga added that the essence of the training was to position graduates at vantage positions to access jobs as well as agents of positive change.
He said that the club had already partnered with recruiting firms who would employ some of the trained graduates who were able to excel in the recruitment processes.
"This training is to ensure that no graduate is denied access to jobs due to poorly written curriculum vitae or bad comportment during interview sessions.
"Graduates seeking for job should be mindful of their language, ensure to be polite and the communication should be devoid of slangs because it is a formal setting," he said.
The President-Elect, RCLI, Mr Sanjay Srivastava, said that the training became necessary as a lot of Nigerian graduates did not know how to position themselves for their desired jobs.
He promised that the club would empower 5,000 graduates with vocational skills in the next five years as writing of various documents and comportment for a good job were some of such skills.
According to him, 75 Nigerian graduates had benefited from the free training since its inception last year.
"Our aim is to put smiles on people's faces; we believe when they are empowered with this, the sky will be the starting point for them in terms of accessing their desired jobs.
"We will be having more of this in the course of the year," he said.
One of the beneficiaries, Mr Manasseh Manasseh, a Bio-Chemistry graduate of University of Uyo, said the training session was very impactful.
Manasseh said he had submitted a series of application letters and curriculum vitae to companies but no response yet which he attributed to his poor writing skill.
He said the training had educated him on his past errors and hoped to make amends in his subsequent writing.
"I now know how to deal with anxiety and low confidence during interview sessions; I appreciate the organisers for such impactful training without the financial commitment," he said.
Also, Mercy Edetanlen, a graduate of Accounting from Yaba College of Technology (YABATECH), commended the club for their kind gesture.