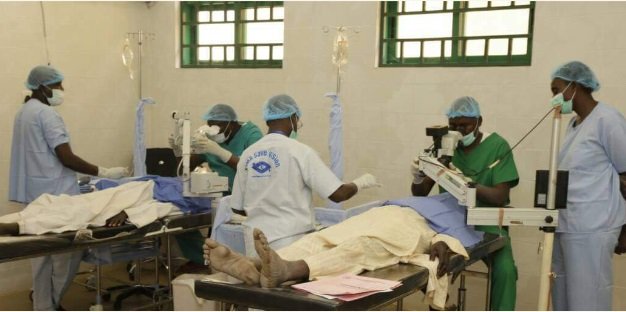 The Lions Clubs International says will sponsor 100 Nigerians for cataract surgery as part of its resolve to fight preventable blindness in the country.
Olive Odimegwu, President, Yaba Golden Lions Club, made this known at her investiture ceremony on Sunday in Lagos.
Odimegwu said that the free cataract surgeries worth N5 million was the club's core project of the year, and would be conducted on less privileged people in the country.
"We have put plans in place to sponsor 100 cataract surgeries at a highly subsidised price of N50,000 per surgery.
"This amount includes the screening of patients," she said.
"Patients suffering from cataracts can regain their vision only if they undergo a minor surgery; giving sight to the blind is one of the key areas in which Lions serve the public," she said.
According to her, awareness will be created for the public to participate in the free eye screening exercise, from where those that required surgical operation will be shortlisted.
Odimegwu said the screening and surgery would be conducted between March and June in Lagos.
Also, Felicia Obilo, Global Leadership Team, District 404A1, said that cataract was the commonest cause of blindness in Nigeria and Africa, adding that it could be treated through surgery if diagnosed early.
Obilo said the free surgery was part of the club's vision programme to restore sight to the less privileged.
She added that apart from the surgical intervention, drugs would also be provided to the beneficiaries depending on their needs.
"Lions Clubs undying commitment to restore vision to people who cannot afford the cost of surgeries has brought succor to many past beneficiaries," she said.
Obilo, however, advised Nigerians to imbibe the practice of regular eye screening to maintain good vision and prevent avoidable blindness.
Load more