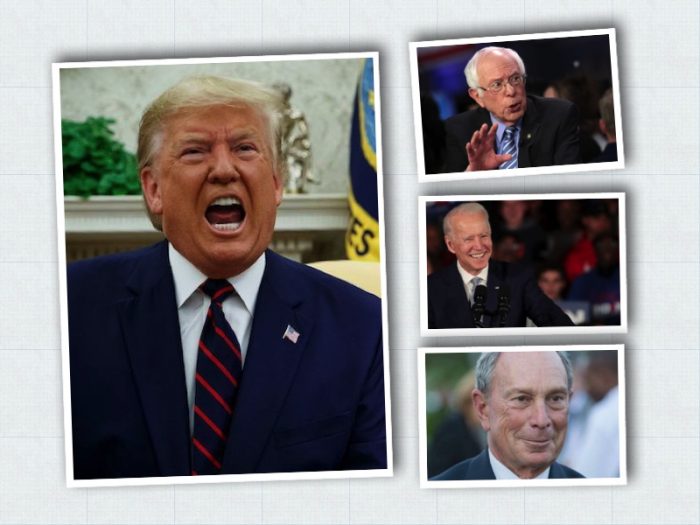 US President Donald Trump, never minding his party business, has continued to mock Democratic presidential candidates, running derisive commentaries on their primaries and the candidates.
After former US Vice President Joe Biden won South Carolina decisively, Trump tweeted one liner: Congratulations to Sleepy Joe Biden! That is to the man he wanted to force Ukrainian leader Zolensky to probe, in a quid pro quo that ran Trump into trouble.
Apparently not happy that Biden took South Carolina, Trump blamed Democrats for conspiring against the Vermont Senator Bernie Sanders.
"Democrats are working hard to destroy the name and reputation of Crazy Bernie Sanders, and take the nomination away from him!", he wrote
The ever-tweeting US President reserved his bigger taunts for billionaires Michael R. Bloomberg and Tom Steyer.
Both had committed millions in the campaign. Steyer reportedly spent a lot of money on advert campaigns in South Carolina, but he only got the third place after Biden and Saunders. He has now quit the race.
Bloomberg is hoping to reap from his $500million big advert campaign, costing over in Super Tuesday.
"Sleepy Joe Biden's victory in the South Carolina Democrat Primary should be the end of Mini Mike Bloomberg's Joke of a campaign. After the worst debate performance in the history of presidential debates, Mini Mike now has Biden split up his very few voters, taking many away!", Trump wrote.
"Mini Mike Bloomberg's consultants and so-called "advisors"(how did that advice work out? Don't ask!), are on the "gravy train" and all making a fortune for themselves pushing Mini hard, when they knew he never had what it takes. Don't pay them anymore Mike, they led you down a very dark and lonely path! Your reputation will never be the same!"
Democratic spending on the 2020 presidential primary campaign topped $1 billion last week, with Mr. Bloomberg responsible for the lion's share.
President Trump had a parting shot for Tom Steyer after the San Francisco hedge-fund billionaire dropped out of the Democratic presidential primary race.
Mr. Steyer, 62, exited Saturday after placing third in the South Carolina primary despite spending $24 million in television advertising, more than his Democratic rivals combined, in a state that was viewed as his last stand.
"Tom Steyer who, other than Mini Mike Bloomberg, spent more dollars for NOTHING than any candidate in history, quit the race today proclaiming how thrilled he was to be a part of [the] Democrat Clown Show. Go away Tom and save whatever little money you have left!" tweeted Mr. Trump.
Load more