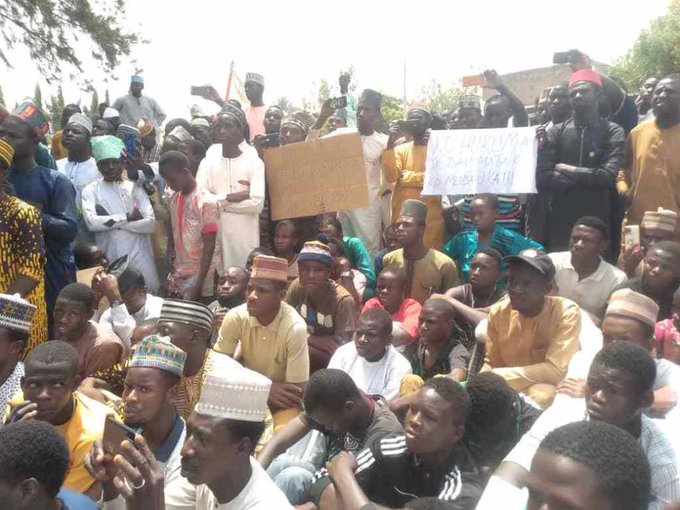 A blasphemous song against Islamic leader, Prophet Muhammed has sparked off massive protest in Kano as youths threatened the government to take action immediately or they take laws into their hands.
According to report, hundreds of angry youths stormed Kano Hisbah office, on Wednesday, to stage a protest over an alleged blasphemous song against Muhammad.
Tension has heightened in the ancient city following the protest.
The protesters were armed with placards. They said the government and security agencies in the state were reluctant in taking action against the composer of the song,  Yahaya Sharif-Aminu.
Idris Ibrahim, leader of the protest warned government on the consequent of not doing the needful.
Last Friday, the family house of the singer located at Sharifai quarters in Kano Municipal Local government was set ablaze by irate youths who invaded the area in protest against the song.
Sources revealed the singer to be a follower of Tijjaniya sect and is a member of Faidha group who are known for their preference of Ibrahim Nyass (a famous Senegalese Islamic Scholar) over Prophet Muhammad (SAW).
The Kano Hisbah Commander, Harun Ibn-Sina while addressing the protester, said officials in the state were on top of the situation and that the parents of the blasphemer had been arrested and currently at the police custody.
Representative of the State Police Commissioner, Habu Sani, told the protesters that police were making effort to arrest the fleeing singer.

Load more