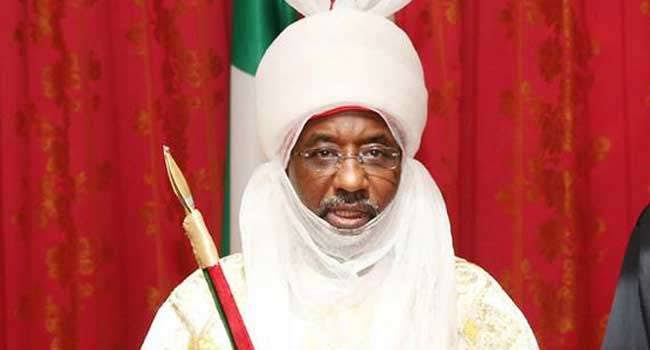 By Taiwo Okanlawon
Social media is currently buzzing following the dethronement of the Emir of Kano, Muhammad Sanusi II, by the Kano State Government.
The removal of Sanusi was announced by the Secretary to the State Government, Alhaji Usman Alhaji, after the State Executive Council meeting on Monday.
According to him, a new emir would soon be appointed.
Usman Alhaji said Emir Sunusi's dethronement was as a result of unanimous decision taken by Kano State Executive Council.
Many Nigerians have taken to the micro-blogging website, Twitter to condemn the decision of Governor, Abdullahi Umar Ganduje.
Some users said the governor who was allegedly caught receiving bribes does not have the right to dethrone Sanusi.
FLASH: Ganduje, Kano State Governor caught on camera stuffing dollars in his Babariga like a petty thief just dethroned Emir Sanusi Lamido Sanusi over corruption allegations

This country is a crying JOKE!!!

— Bankole Akintunde Adebayo (@AdeBanqie) March 9, 2020
BREAKING: Emir of Kano, Muhammad Sanusi has been dethroned.

I hope Ganduje has pleased his ego. pic.twitter.com/srWM93FKj3

— AyeMojubar (@ayemojubar) March 9, 2020
It was always Sanusi's dream to make the throne. He made it. He has now been dethroned. I see it as destiny's way of saying to seek bigger things he could never have sought as an emir.

— JJ. Omojuwa (@Omojuwa) March 9, 2020
Emir of Kano, Malam Muhammadu Sanusi ll has been dethroned with immediate effect over disrespect to the office of the governor (headed by Governor Abdullahi Umar Ganduje) and other government agencies. The state SSG says a new emir would be announced in due course.
Naija I Hail pic.twitter.com/dyMs80pGnV

— B h a d o o s k y (@BhadmusAkeem) March 9, 2020
I know Sanusi will either go for a course at Harvard or start giving speeches at Chatham House or TEDx conferences, I wish him well. He has never been a powerful man, but he is undoubtedly great at being an opportunist.

It is God alone who judges; he decides who rises or falls.

— Royalty (@royaltyuso) March 9, 2020
Sanusi is obviously a well learned fellow with good intentions towards the northern people.

But if he's really serious about implementing his policies on Almajiri, child marriage, polygamy and the likes, he should run for office.

That's the only way to effect change.

— Adunni Achebe (@_Adadioramma) March 9, 2020
Trying to paint what Sanusi is going through under Ganduje as karma for calling out the corruption in GEJ's govt is absolute nonsense.

GEJ wasn't exactly an exemplary president & he rightfully got what he deserved.

Let's face the problem that is Buhari & leave the past alone.

— Adunni Achebe (@_Adadioramma) March 9, 2020
I have nothing but respect for HRH Sanusi Lamido Sanusi for his stand.WARNING: if you choose to fight the establishment be ready to be removed from whatever position u hold. You see they say Knowledge is Power, but in Nigeria "Power is power" and it doesn't belong to the people pic.twitter.com/2mW4kJIvII

— AuduMaikori (@Audu) March 9, 2020
History repeats itself, in 1963, Emir Sir Muhammadu Sanusi I was dethroned as a result of the power struggle between him and Ahmadu Bello.

57 years later, his son Emir Sanusi Mohammed Sanusi II is dethroned by Governor Ganduje. pic.twitter.com/8aiU9GF2K6

— Tosin Olugbenga (@TosinOlugbenga) March 9, 2020
I don't think Sanusi came before his time. He simply came to the wrong place. This is exactly why you have so many Nigerians that can help the country refusing to return to the country. It is shame. Sanusi will be a hero in a country with leadership that are real humans.

— Femi Fajolu (@LessonThem) March 9, 2020
Sanusi Lamido Sanusi was a man of letters. He invited Yemi and I to the last Durbar and we had great conversation on the future of Nigeria. He will do greater things. pic.twitter.com/nqJ7aE5pou

— Olúseun Onígbińdé (@seunonigbinde) March 9, 2020
I am very sure you know that Sanusi since becoming Emir in 2014 has been playing a vital role in going against bad leaders and decisions, which to me I think is okay Sanusi as a traditional ruler in the one of the oldest Sub-Saharan cities in Africa with pic.twitter.com/TqHc6BiDRD

— Sameer Lukman Ibraheem (@disosameer) March 9, 2020
You won't understand Nigeria if you aren't that cynical. If you are cynical enough, what happened to Sanusi wouldn't take you by surprise.

But if we abandon all hope for cynicism, what exactly would we accomplish?

— Onye Nkuzi (@cchukudebelu) March 9, 2020

Load more