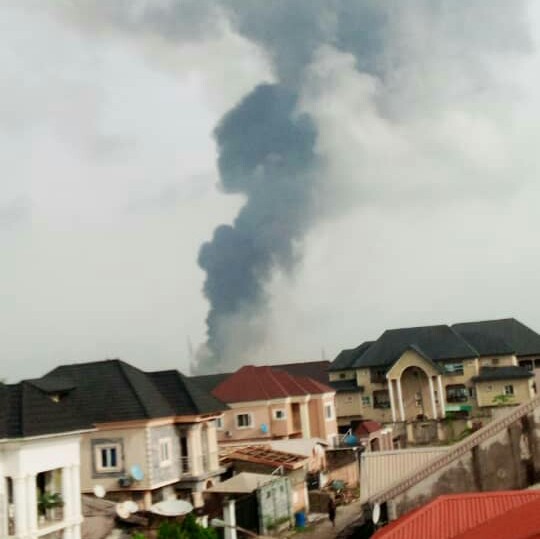 By Kazeem Ugbodaga
A massive explosion that shook several houses rocked Abule Ado area of Ojo, Lagos, Southwest Nigeria on Sunday morning.
Thick smokes and balls of fire enveloped the atmosphere as panic struck residents who scampered to safety.
The explosion reverberated and shook houses several miles away.
Lagos State Emergency Management Agency, LASEMA's spokesman, Nosa Okunbor said the explosion might be from the pipeline.
"LASEMA Team Heading to Abule Ado, Trade Fair axis for investigation of alleged pipeline explosion. Awaiting details and preliminary reports," he said.
Watch the video here:
[videopress AQ2wFE60]
"That explosion shook my house. It woke me from sleep. It was so loud and scary.
"We were debating in my house where the sound came from and then, my sister called some friends in Satelite who confirmed it happened in their area and Abule Ado," said Precious, who lived closed to the area.
An army personnel who craved anonymity said the explosion occurred behind Oando Gas Station at Abule Ado.
The National Emergency Management Agency (NEMA) revealed that the explosion was not caused by any sort of vandalism of the Nigerian National Petroleum Corporation (NNPC) oil pipeline.
According to Mr Ibrahim Farinloye, the acting Coordinator, Lagos Territorial Office, (NEMA), the explosion was not connected to pipeline vandalism contrary to speculations made on social media.
He said; "From the information given by officials of the Lagos State Fire Service who are currently on the ground, the implosion is not connected to pipeline but might have occurred in a factory located in the Abule Ado area.
"Emergency responders are on ground while others are still on their way to the scene. The situation is under control and we hope to get more information soon to ascertain its cause," he said.
Farinloye said the NNPC had shut down the pipeline passing through the area as a precautionary measure after the oil company was notified of the incident.
He also confirmed that several buildings were affected by the explosion.
Load more