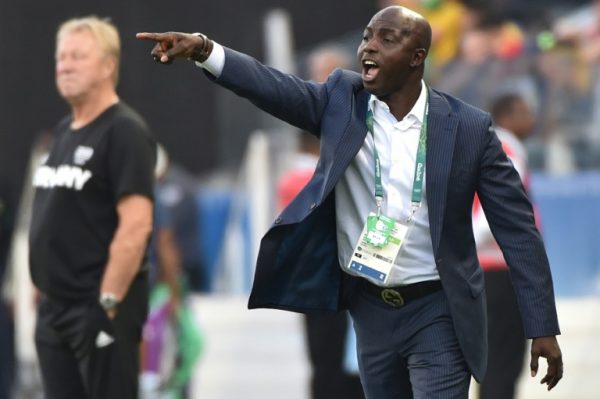 The outbreak of COVID-19 (Coronavirus) has forced Court of Arbitration for Sports (CAS) to postpone the hearing of embattled Super Eagles' Coach, Samson Siasia's appeal of the life ban imposed on him for alleged match-fixing by world football governing body, FIFA.
CAS had picked today (19 March 2020) as the day to hear Siasia's appeal provided he paid the 250, 000 euros required to convene the court in Zurich, Switzerland. But the world body has postponed the hearing until further notice.
Speaking to newsmen on Wednesday, Siasia said the latest development has given him more time to source for the money he must pay before the case is called up.
Siasia will have to pay 100, 000 Swiss Francs (about N36.4m) appeal fee before his appeal could be entertained by the apex court of Sports. He was given until October 10, 2019, to make the payment or forget his appeal, but used his legal team to persuade CAS to give him a 5 month grace period to raise the appeal fee.
The Beijing 2008 Olympics silver-medal winning coach has relocated to the South-South, where he is looking for kind-hearted Nigerians to donate to his cause and save his career.
"I believe God is on my side because I am being falsely punished.
"I am a winner. Whether as a player or a coach, I always strive to win because I hate losing.
"Now for anybody to accuse me of trying to fix a match, make my team lose, is preposterous. My problem now is that to clear my name, I have to come up with more than N83 million naira.
"Apart from the money I must pay to CAS, I am also to pay my lawyers and arrange for logistics for our movement to Zurich.
"Look at me, an African Nations Cup winner, a former national team coach and an Olympian finding it difficult to raise money to prove my case.
"I know that Nigerians are kind-hearted people, who will help you if your case is just. I want them to help me now."
Siasia said he could not imagine what life would be like if he failed to defend himself in Zurich, adding, "football is the only trade I know. Stopping me from the game is like cutting off my head.
"I really need people to hear my side of the story, that is why I am crying to Nigerians to say look, let me defend myself.
"I have come a long way not to talk of messing things up at this level. This is the only thing I know how to do. I started from a very early age and I have never done anything else. How do I get income without doing my job?
"The only thing I probably should be doing is being an ambassador to sports bets companies, but I cannot," Siasia said.
Load more