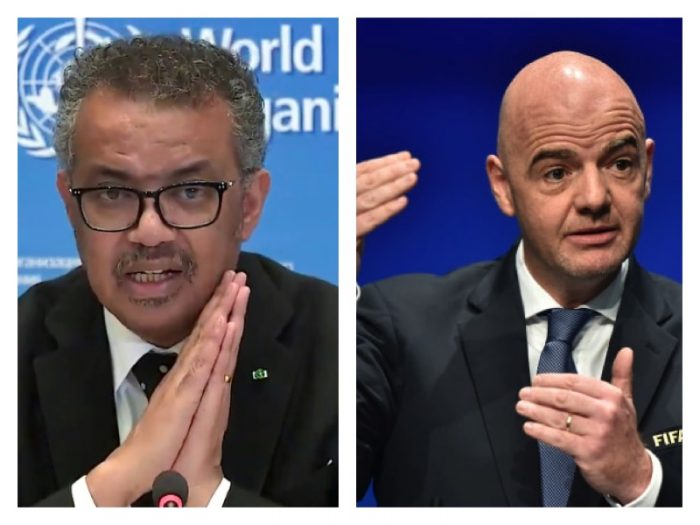 FIFA and the World Health Organisation have launched a joint video campaign aimed at spreading the message of how to protect against infection so as to "kick out coronavirus".
In a social media video clip, football stars from around the globe spelled out five simple steps to take on "hands, elbow, face, distance and feel."
Barcelona and Argentina icon Lionel Messi said: "For your face, avoid touching your eyes, your nose and your mouth. This can prevent the virus from entering your body."
Samuel Eto'o, one of Africa's greatest strikers, added: "If you feel unwell, stay home."
Pleased to launch "Pass the message: 5 steps to kicking out #coronavirus" campaign, together with @FIFAcom Gianni Infantino & @Alissonbecker. I thank them for their active involvement in passing the message against the pandemic since the very beginning!pic.twitter.com/ew5CmZDHD5

— Tedros Adhanom Ghebreyesus (@DrTedros) March 23, 2020
Joined by FIFA president Gianni Infantino, WHO chief Tedros Adhanom Ghebreyesus compared the fight against COVID-19 to football tactics.
"You can't win a football game only by defending. You have to attack as well," Tedros said.
"To win, we need to attack the virus with aggressive and targeted tactics," he said, reiterating a call for "testing every suspected case, isolating and caring for every confirmed case and tracing and quarantining every close contact."
Despite wanting to go on the attack, the WHO chief acknowledged that a number of countries were struggling to take more aggressive measures due to a lack of resources and access to tests.
He said he would be asking G20 leaders in the coming days to work together better to "fight this pandemic in the strongest terms".
Load more