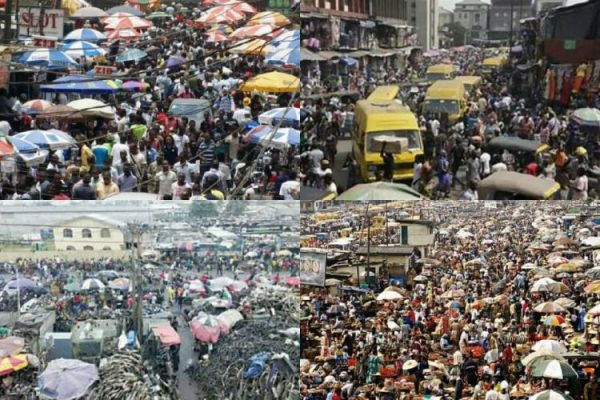 By Kazeem Ugbodaga
Multi-billions of naira will be lost in Lagos in the next seven days, as major markets in the state will be shutdown totally on Thursday to halt the spread of Coronavirus.
Governor Babajide Sanwo-Olu had on Tuesday announced total shutdown of all non-food markets in the state in a bid to arrest spread of rampaging Coronavirus.
As at Wednesday, Lagos has recorded 30 of the 46 Coronavirus cases in Nigeria, making it the hottest zone for the spread of the disease in Nigeria.
Markets to be affected by the Governor's order are the popular Computer Village, with volume transactions running into billions of naira on daily basis and Balogun Market on Lagos Island, one of the biggest clothes market in Nigeria, with a daily turnover of billions of naira.
Also affected is Alaba International Market, the home of electronics in Nigeria, with daily transactions running into billions of naira.
The popular Ladipo Auto Spare Parts market, the biggest in Nigeria is also affected. The market has a daily turnover of billions of naira.
More so, part of the popular Tejuosho  Market in Yaba will be affected. Major part of the market is devoted to non-selling of food items. Daily transaction in the market runs into multi-million naira.
Markets in Apongbon, and in different parts of the state will be closed on Thursday as ordered by Sanwo-Olu.
READ ALSO: Coronavirus: Wike shuts land borders against all states
According to Sanwo-Olu, "All public parks, including those in private and residential estates, swimming pools, gyms, beauty salons, and all such public places are expected to shut down at this time, until further notice.
"All open markets and stores are directed to close, except for sellers of food and medicines, medical equipment and other essential life-saving products. For those that fall into the aforementioned categories, it is imperative that they observe necessary precautionary measures of social distancing.
These are indeed changing times and we need to act responsibly and with an urgent sense of duty to ensure that we take the precautionary measures seriously and do what is the right thing in the circumstances.
"I am not unaware that the directives issued thus far have wide ranging effects and restrictions on your personal freedom, as well as your fundamental human rights; however, as you can imagine, the constitution or any law for that matter never quite envisaged the corona virus pandemic, so at this time, the doctrine of necessity is being invoked to allow us roll out these restrictive measures to protect and secure our state and its people."

Load more