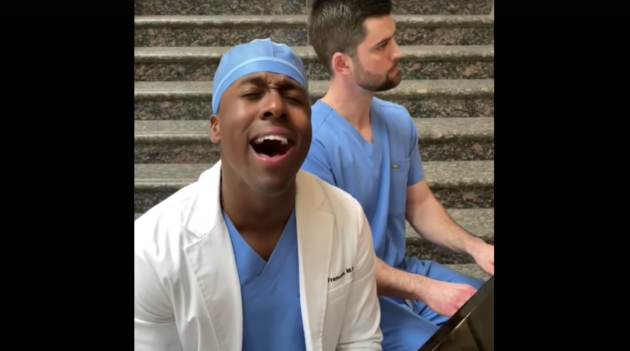 Dr. Elvis Francois, a young orthopedic surgery resident at Minnesota's prestigious Mayo Clinic, became a viral sensation this week after posting his latest vocalized performance on Instagram.
Francois, who has been singing his face off in front of his cell phone for over two years, stuck the right chord and hit a high note with lots of people social media.
The Haitian-American, aside from being a doctor, is using his voice through music to inspire the world who have been isolated in these turbulent times of coronavirus which has claimed thousands of lives.
Amid the struggle to curtail the spread of Coronavirus, some doctors are tired, with an increase in hours of work and the number of patients.
Some have lost their job and at home with little or nothing to eat, while some patients who have tested positive and under intensive care are going through depression.
However, amid the search for hope, Dr. Elvis Francois took his time after a shift to render "Imagine" by John Lennon.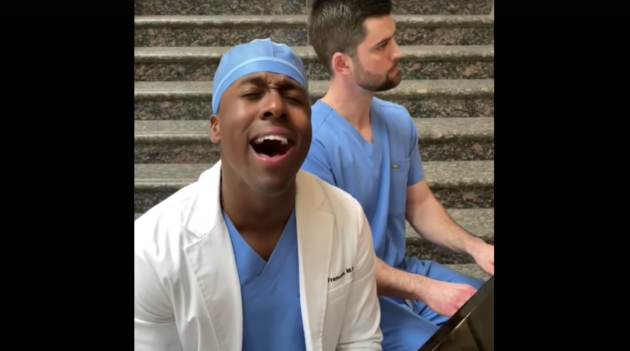 He rendered the soul version of the song with the help of his colleague, Dr. William Robinson, to "lift someone's day and we're all in this fight together."
And his aim was achieved, as many people took to social media to appreciate his massive contribution to healing the world in these turbulent times.
Watch Dr. Elvis Francois's lovely rendition of "Imagine" by John Lennon.
IN THIS TOGETHER: @DavidMuir reports on Dr. Elvis Francois and Dr. William Robinson from the Mayo Clinic – singing John Lennon's "Imagine" after a shift, telling us they did it to lift someone's day and we're all in this fight together. #AmericaStrong https://t.co/CEhhg1p5kg pic.twitter.com/0cYvsxooob

— World News Tonight (@ABCWorldNews) March 25, 2020
"It's just been awesome to be a small part of making people's day a little bit better." -Dr. Elvis Francois, the singing surgeon sensation pic.twitter.com/DVK7IQzSCP

— TODAY (@TODAYshow) March 26, 2020
Load more