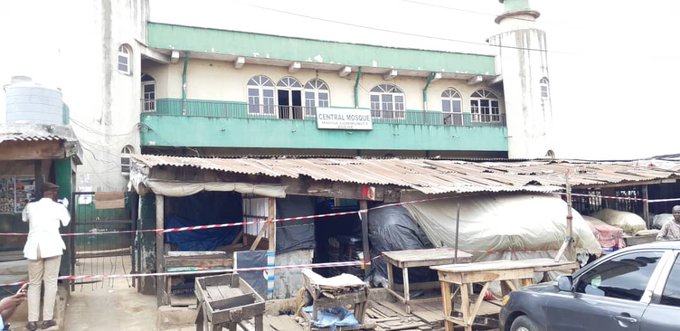 The Agege Central Mosque, Agege area of Lagos where about 300 worshippers attacked officials of the Taskforce on COVID-19, has been shutdown and fumigated.
Officials of the Lagos Taskforce on COVID-19 were on Wednesday attacked by worshippers at the Agege Central Mosque while enforcing the social distancing order of the Lagos State Government.
The Agege Local Government stormed the area on Thursday and sealed the mosque and fumigated it.
Director General, Lagos State Safety Commission, Lanre Mojola, said the local government did not only seal-up the mosque, it also fumigated the place of worship.
According to him, the attack on government officials was an ugly scenario which would have been worse if the taskforce members had not tactically withdrawn to avoid an open confrontation in the community.
"It is a simple instruction from the government to curb the spread of coronavirus and avoid unnecessary death, but what we saw that day was flouting of the rule on social distancing by the worshippers and attempt to caution them and let them know the implication resulted in attack with the headlamp of one of our vehicles destroyed by the worshippers," Mojola said.
According to Majola, the taskforce was surprised about the attitude of the worshippers because the government had earlier before the lockdown held meeting with all religious leaders and that they all supported the government's action.
He also disclosed that the taskforce has also before now sealed-up a number of churches and mosques across the state that flouted the directive, appealing for compliance from members of the public.

Load more