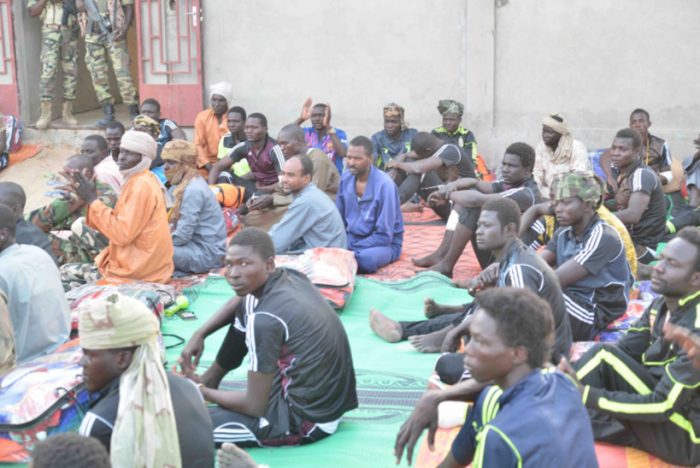 Chadian President Idriss Deby on Sunday visited dozens of injured troops during the major onslaught launched against Boko Haram terrorists last week.
In the onslaught called 'Operation Anger of Bohama', many members of the terror group were killed.
Even more devastating for the terrorists, their bunkers where they kept weapons were captured by the Chadians.
President Deby led the troops into the battlefront, after several attacks against the country's soldiers by the terrorists.
Deby said the enemy was "chased" from the Lac islands after six days of operation, while two Boko Haram command posts in Chadian territory were recovered and destroyed.
Scores of Boko Haram fighters captured are being held by the Chadian military.
The lightly injured Chadian soldiers are being treated in Baga Sala in the Lac Province by a team of doctors sent from the N'Djamena military hospital.
There are also doctors sent from the Presidency and a volunteer.
Military doctor, Dr Abdéramane Ahmat Ali said most of the soldiers under treatment are now out of danger, the local newspaper alwihdainfo.com reported.
On Sunday, Déby visited the injured to inquire about their state of health.
"They are proud to have accomplished a sacred mission in the service of their beloved homeland," Deby said.
Till date, the Chadian military authorities have not given a full account of how the battle went.
However, many Boko Haram insurgents were eliminated during the operation, with many fleeing into Niger, Nigeria and Cameroon.
A military operation by the Multi National Joint Task Force followed last Friday.
In the attack were Nigerian, Chadian and Nigerien soldiers, under the Multi-National Joint Task Force.
They reportedly bombed via air strikes a camp of the Boko Haram and Islamic State West African Province terrorists in the Tumbun Fulani area in Borno State.
Scores of the terrorists died.
The Defence Media Operations said in a release that the Air Task Force of Operation Lafiya Dole and the Artillery Battalion of Sector 3 of the MNJTF were involved in the operation at Tumbun Fulani.
The Director of the DMO, Brig Gen Bernard Onyeuko, said, "The Armed Forces of Nigeria, through the Air Task Force of Operation Lafiya Dole, has destroyed an ISWAP camp at Tumbun Fulani on the fringes of Lake Chad in northern Borno State.
"This was achieved in a combined air and artillery bombardments as part of the coordinated joint offensive by the MNJTF to dislodge and completely rid the islands of Lake Chad of terrorists' presence and activities.
"The operation was executed on intelligence reports indicating that the ISWAP elements used the settlement as a base from where they plan and launch attacks".

Load more