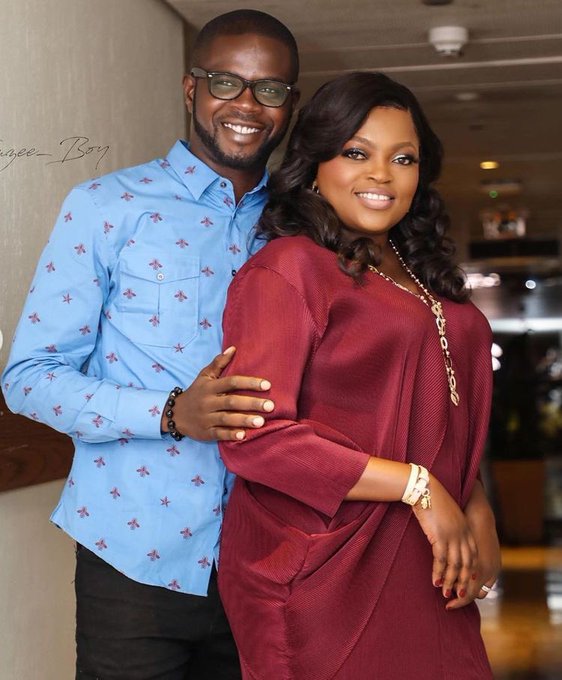 On April 4th Nollywood actress Funke Akindele celebrated her husband JJC Skillz birthday and their family and friends were in attendance.
The videos from the party went viral and fans urged the government to arrest the couple for violating social distancing laws put in place against the Coronavirus pandemic.
Although the mum of two came out to apologize in a video, the lovebirds were arrested and charged to the Ikeja Magistrate court.
Due to her status, the gathering at the court outnumbered the stipulated number of people who are allowed to be in one place at a time, Nigerians are not having this.
See some reactions…
Funke Akindele was charge to court for violating the law of social gathering of more than 20, but the crowd at the court is enough to make a burial party. Are we serious at all ?? #funkeakindelebello

— Dr. Gbemi(DVM)👩‍⚕️ (@Xtarkay) April 6, 2020
Please tag everyone that dragged Funke Akindele yesterday. There's a similar dragging work for them available. #funkeakindelebello||#funkeakindele| pic.twitter.com/DPVHyVvQfr

— mmidé (@themidies) April 6, 2020
Funke Akindele was charge to court for violating the law of social gathering of more than 20, but the crowd at the court is enough to make a burial party. Are we serious at all ?? #funkeakindelebello

— Dr. Gbemi(DVM)👩‍⚕️ (@Xtarkay) April 6, 2020
Moral lesson! Not everything done in private needs to be put to d public #funkeakindelebello Stay Strong

— K-SOLO (@OBAKSOLO) April 6, 2020
Uti said it all. #funkeakindelebello pic.twitter.com/iSLEdBOHdZ

— ☀2 NAWTI 4 U☀ (@fifi_fierce) April 6, 2020
#funkeakindelebello has been charged to court in less than 24 hours. Are we still in Nigeria or am I dreaming? pic.twitter.com/s8grwblX0B

— DR.PENKING™ (@drpenking) April 6, 2020
You arrested funke and her husband for gathering people in her house, now the court is crowded like market. You arrested her for the same crime you're committing. Wtf💔💔🚶🚶 #funkeakindelebello

— Your type of guy💪🇳🇬 (@Yohanrealdeal) April 6, 2020
The same energy you'll used in calling Funke Akindele out please call Asiwaju Bolatinubu out! If no one is really above the law then state it because he had his birthday 29th of March too and he hosted guest. #funkeakindelebello

— Zainab 👸 (@zeee_mama) April 6, 2020

Load more