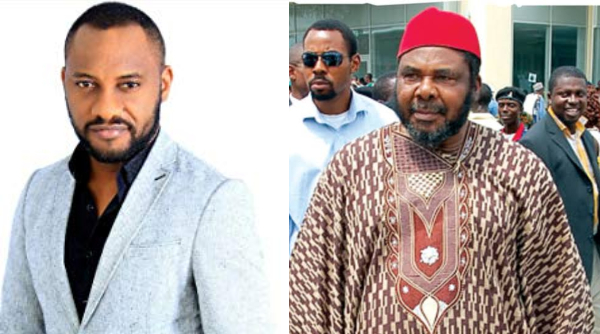 Yul Edochie, a Nollywood actor and son of legendary actor, Pete Edochie, has recounted how his father flogged him mercilessly for daring to suggest he wanted to drop out of school.
The younger Edochie, the last of his parents' six children, made the revelation in a tweet while reacting to a viral video showing a man in Zambia beating his son for performing woefully in his exams after he spent $21,000 on tuition.
The video is currently generating massive reactions on social media, with commentators making a case for and against hitting children as a form of correction.
Explaining, Yul said he was in Junior Secondary School (JSS) 2 when he told his disciplinarian father he wanted to leave school and run an electrical appliances shop instead.
He said his father took him into his room, locked the door, removed his belt and beat him severely.
Yul, 38, later attended the University of Port Harcourt, where he bagged a degree in Dramatic Arts.
The younger Edochie further thanked his father for correcting him in such manner.
"In JS2, I told my father I didn't want to go to school anymore, he should open electrical shop for me. He said ok. He invited me to his room, locked the door & pulled out his belt. He gave me a beating that reset my brain to factory setting. Look at me today. Thank you Dad!" he tweeted.
See tweet:
In JS2, I told my father I didn't want to go to school anymore, he should open electrical shop for me.
He said ok.
He Invited me to his room, locked the door & pulled out his belt.
He gave me a beating that reset my brain to factory setting.
Look at me today.
Thank you Dad!

— Yul Edochie (@YulEdochie) April 23, 2020
Load more