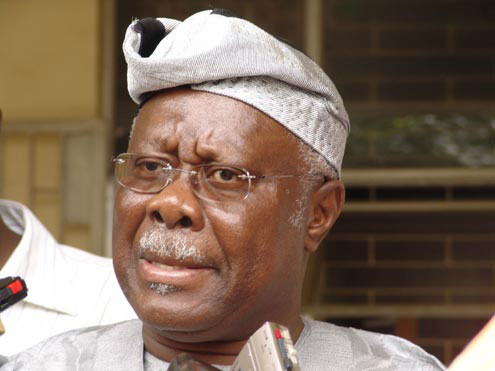 A former Deputy National Chairman of the People's Democratic Party, Chief Olabode George, has mourned the exit of a retired judge of High Court of Lagos State, Justice Isiaka Oluwa.
George, in a statement on Saturday in Lagos, said he was devastated by the passing away of the Lagos oldest jurist.
Oluwa died in his home in Lagos in the early hours of Saturday at 102.
He was the judge that sentenced Lagos socialite, Alhaji Jimoh Isola (a.k.a Ejigbadero) to death for the murder of a farmer, Mr Raji Oba, over a land dispute in 1975.
The deceased was born on June 23, 1918 in Ogwude, Cross River.
He attended Forcados Government Secondary School, Bonny; St. Bartholomew's School, Degema; Government School, Sapele and King's College Lagos.
The late jurist was called to the bar in 1957 after studied Law at the University of London.
He was appointed Lagos High Court Judge on June 1, 1974, and retired on June 17, 1983.
George described late Oluwa as a fearless and truthful jurist, saying he was deeply touched by his demise.
"I am saddened, touched and disturbed by the passage of Justice Isiaka Oluwa.
"He was a good man, he was a Lagosian original, predicated on truth, fearlessness and justice.
"He feared no one.
"He embraced everyone – the downtrodden, the trampled, those who had no voice.
"There was a certain defiance about this man, a deliberate insistence on ensuring that the truth must be told at all times, no matter whose ox is gored,'' he said.
According to George, the late jurist was a brave man who confronted the tools of power with typical Lagosian aura.
He said Oluwa was locked with a firm logical attestation that the truth must always be told.
"He was indifferent to personal comfort, he lived for all.
"He was our leader, who did not compromise the truth.
"He was the representative man, a good Lagosian, who represented us all,'' he said.
George added that from his personal engagements with the deceased, the late jurist was calm, purposeful and was indifferent to primitive acquisition.
The PDP chieftain prayed for the peaceful repose of the deceased while asking God to grant those he left behind, the fortitude to bear the loss.

Load more