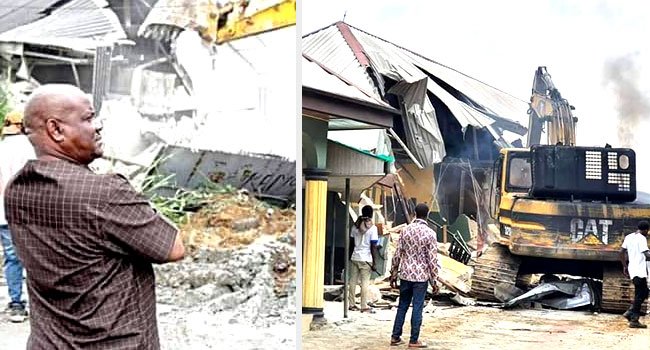 By Kazeem Ugbodaga
Nigerians are angry with Governor Nyesom Wike of Rivers State for demolishing two hotels for violating his lockdown order.
They described Wike's action as brazen display of lawlessness and dictatorship.
The governor had on Sunday supervised the demolition of two hotels.
The hotels are: Prodest Hotel, Alode, Eleme, and Etemeteh Hotel in Onne both in Eleme Government local area.
However, Nigerians on twitter expressed outrage over Wike's action, saying that the governor was simply power-drunk.
A twitter user by the name,  Ochi Damian Ike, said "Power corrupts and absolute power corrupts absolutely. Wike is a tyrant. I hope he will be brought to book. No where in the western world did we see such extreme penalty for flouting lockdown order. Even in African countries. In this time of hunger."
Another user, Chinda Peculiar, said "I condemn in strong terms the demolition of the hotels by Wike. Where does he derive such powers from? Impose a fine or confiscate the hotel but not demolish it. Nyesom Wike please listen to the voice of reason now before it plays out of hand."
According to Theresa Tekenah, "The decision to demolish hotels in Rivers state over violation of the COVID-19 lockdown order is extreme and illegal. Gov Wike, this isn't leadership."
Read other reactions below:
https://twitter.com/TheEmmalez/status/1259538729305288707
https://twitter.com/oswvldo_oniel/status/1259527643155832832
Those clapping for Wike, the day he will destroy your relatives businesses & cripple them financially is coming but I expect you to hail him with this same energy. Remember E dey sweet if e nor affect us. Bad governance will touch everybody one way or the other.

— Opeyemi Babalola (@CACCOT1) May 10, 2020
Someone said if Rivers COVID-19 case should increase to like 30, Wike will order all of them to do frog 🐸 jump in the middle of Aba road 😂😂😂😂😂#COVIDIOTS
Nigeria
Agba pic.twitter.com/3SfmgGhbxo

— African Society (@iamkelgrin) May 10, 2020
Wike ordered for the demolition of a hotel which was neglecting the lockdown orders. I have always commended the actions of Governor Wike towards curbing the spread of the deadly Corona Virus in his state but this action here was out of order and inappropriate. #wike #Covidiots pic.twitter.com/mJfU2tDOLk

— Your Fav. Boss (@Bruno_Wilson01) May 10, 2020
Governor Wike need to be taken to isolation center he is acting abnormal …#wike pic.twitter.com/4w2Nw2lH6n

— March31st (@aleesyvicky) May 10, 2020
Power corrupts and absolute power corrupts absolutely. Wike is a tyrant . i hope he will be brought to book. No where in the western world did we see such extreme penalty for flouting lockdown order. Even in African countries. In this time of hunger.#wike pic.twitter.com/erKkZqdNjo

— ochi damian ikem (@ochidamianikem) May 10, 2020

Load more