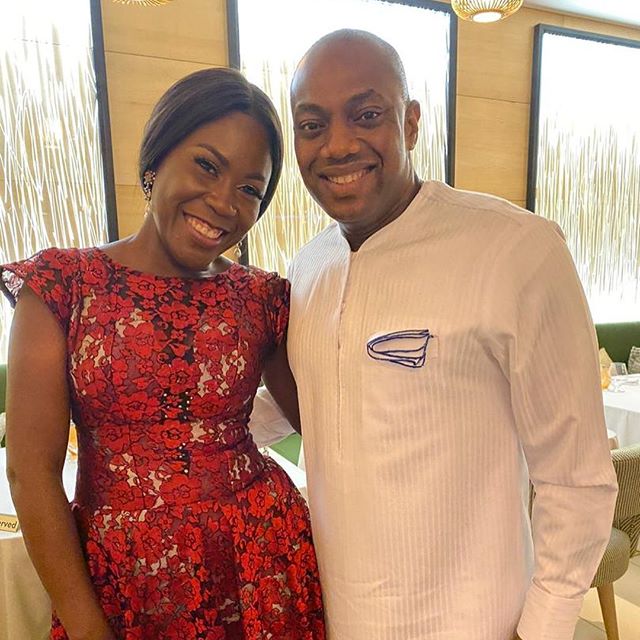 Love is in the air for Business consultant, leadership expert, motivational speaker Fela Durotoye and his makeup entrepreneur wife Tara Durotoye.
The lovebirds in celebration of their 19th wedding anniversary took to social media to announce the exciting news with romantic notes and videos for each other.
See the exchange below as Tara wrote:
W E D D I N G A N N I V E R S A R Y M E M O R I E S
Commitment is an essential state to be for any marriage to thrive .
When we first got married we committed to making memories .
No matter the situation .Whether economic limitation ,bereavement ,business opportunities or a pandemic etc .
This is not about money or about time ,it's simply about COMMITMENT .
For the last 19 yrs we have made memories .
From Port Novo,ghana,Senegal,Venice ,CapeTown,Kenya,Uk,US,Gambia etc
It's not always easy but we are committed !
P A Y B A C K. S U R P R I S E 🥳🥳🥳
It's our 19th wedding anniversary and as I planned @chef_fregz birthday breakfast @feladurotoye was planning @aureliasbasket wedding anniversary breakfast .
I love surprises 😀😃😀😃 Pls commend my 3 sons for helping to set up this surprise and keeping dad's secret .
The boys did very well setting up everything while FD and I were upstairs .
I am grateful for 19 amazing years .
What a blessing !!!!
Thank you Sugar @feladurotoye
My prayer is for all homes represented to enjoy joy and peace .
Amen
Fela however planned a surprise breakfast for his wife with the help of their 3 boys.
On May 12th, Fela turned 49. He is is the president of the GEMSTONE Nation Builders Foundation, a non-profit, NGO with focus on training youths towards transformational leadership and social change.
In February 2018, Fela revealed his intention to run for Presidency in the 2019 elections.
Fela Durotoye was elected as the consensus candidate of a coalition of 11 aspirants which included Omoyele Sowore, Kingsley Moghalu amongst others under the umbrella of the Presidential Aspirants Coming Together (PACT).
Durotoye on Saturday, September 29, 2018, emerged as the presidential candidate of the Alliance for New Nigeria (ANN) for the 2019 general elections.
Tara Fela-Durotoye is a lawyer and the CEO of House of Tara, a makeup brand. The 43 year old has 3 sons, Mobolurin, Demilade and Morolaoluwa with Fela.

Load more