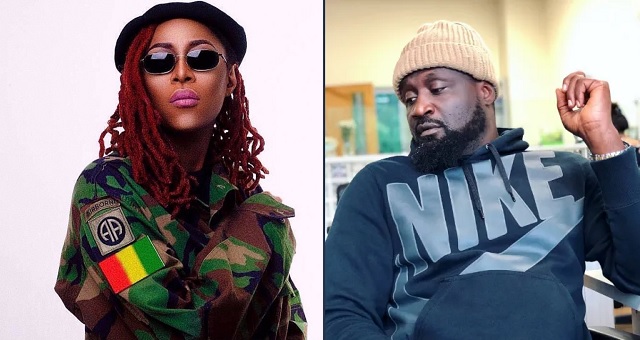 By Taiwo Okanlawon
Nigerians on Twitter are currently dragging dance hall queen, Cynthia Morgan after Jude Okoye released copies of the contract between the singer and his record label, Northside Entertainment.
The contract between her and Jude Okoye revealed that she lied about the content of the contract.
Cynthia Morgan in an Instagram live video, with Ex-Miss Globe Nigeria, CASSANDRA, revealed why she disappeared from the music scene despite becoming a household name.
Cynthia Morgan had alleged that Jude Okoye seized her accounts, made her stop using her name as well, and not promote her and does not own rights to the music she produced while still under Northside Inc, losing virtually everything.
However, according to the terms of the contract, which the music executive released earlier today, it was revealed that Cynthia Morgan and Northside Music had a 50/50 sharing formula, and it was by no means stated that she cannot use her name to do music anywhere else.
Nigerians are now dragging the singer on Twitter for allegedly 'playing the victim card' after accusing Jude Okoye of wrecking her career.
See some reactions below;
https://twitter.com/d1dynasty_/status/1265356820341837827?s=20
If u have supported Cynthia Morgan and now against her then u are a fool for not hearing both sides of the story before u jumped into conclusion.

Now the " #SoCynthiaMorganlied " is flying.

Stay one place make thunder locate u as u they go up and down like NEPA.

— Lammy ⤴️ (@lammillionaire) May 26, 2020
This clearly shows that, you don't judge a case by merely listening to one side of the story, no matter the gender, emotional attachment of the story. But, y'all dickhead Nigerians re always quick to judge especially when a pussy is involved. #SoCynthiaMorganLied #CynthiaMorgan

— 042's Next Governor (@OfficialCCE19) May 26, 2020
So Cynthia Morgan lied and Peter rode on this lie to vilify his own brother?? @PeterPsquare this is really a bad one for you.Your bro was so pained he had to address this publicly. What you are doing is wrong. Dunno how you can't see that. #socynthiamorganlied #arewatotheworld

— Reina (@kaycee0777) May 26, 2020
So Cynthia Morgan didn't know a copy of the contract still exists? pic.twitter.com/AI7vLNnUz9

— Akinpelumi Akinboye (@theakinakinboye) May 26, 2020
So Cynthia Morgan lied?

The easiest way to get Nigerians on your side is to tell an emotional story and sprinkle some tears for effect.

Works everytime!

— Aproko Doctor™ (@aproko_doctor) May 26, 2020
In an epic close of the saga, Cynthia Morgan lied through her teeth and whitewashed her bad behaviour to deceive you all for favours.

This is what I call "Father Christmas" contract. Everything split in the middle, 50-50 between both parties. Jude signed to be a "helper." pic.twitter.com/FZehKEOeyZ

— Joey Akan (@JoeyAkan) May 26, 2020
https://twitter.com/Teghte/status/1265340876785627136?s=20
its not that Cynthia morgan lied, think about it, there are always different versions or Dsps or platforms to stream Haba on, so pick your favorite. do you understand?

— Anonymous: YourAnonCentral (@BlaqBonez) May 26, 2020
https://twitter.com/AsiwajuLerry/status/1265362570073997312?s=20
My conclusion : Cynthia Morgan didn't lie rather social media birthed miscommunications and it affected the narratives , she never said Jude took her social media accounts rather she said her VEVO account , there's a third piece to the puzzle which is Joy Cynthia's direct manager

— Volqx (@TheVolqx) May 26, 2020
Contract between Cynthia Morgan and North Side entertainment.

1. Cynthia Morgan lied. She played the emotional & pity card and Twitter warriors fell for it.

2. There was no where in the contract that it was stated her social media page $ stage name will be taken by the label. pic.twitter.com/dskLMRNBXS

— Unu Amaro Kam Sịrị Kwado (@AfamDeluxo) May 26, 2020
So Cynthia Morgan carried us Handicap & over 2.5.. e Enter tho😂

— Dandanlowo🧎🏽 (@waxzyy_) May 26, 2020
https://twitter.com/heisTactic/status/1265361266924797953?s=20
https://twitter.com/DuchessT_/status/1265359280011718657?s=20
So Cynthia Morgan wanted to stage a comeback and chose to soil Jude's name to gain public sympathy. That gofundme account should be reported and taken down. That's another level of witchcraft. pic.twitter.com/vpXSEQnfwW

— #EndSARS #EndPoliceBrutality (@akunwa_) May 26, 2020

Load more