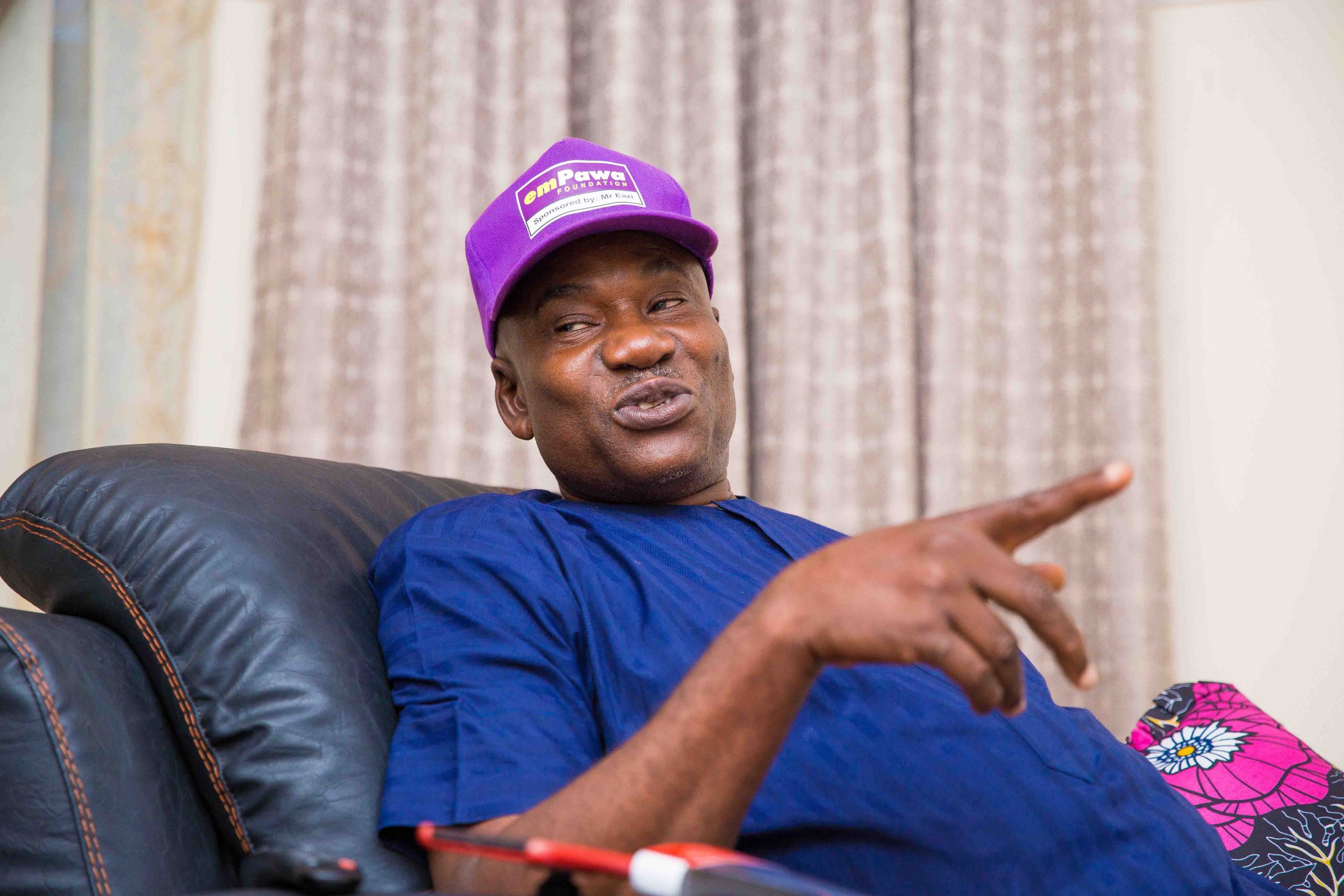 By Taiwo Okanlawon
Not much is known about Captain Alexander Olukayode Ajibade who retired from the Nigerian Air Force as a Squadron leader.
But his son, Oluwatosin Oluwole Ajibade, better known as Mr. Eazi will ring a bell in the ears of many Nigerians or lovers of Afrobeat.
Though being a celebrity parent has its perks, Captain Ajibade, as fondly called and his wife chose to remain off the radar as their first son, Mr Eazi swept through cities after cities with hit records, using his style of 'Banku Music,' touring and striking deals across the UK, US and other markets as one of the smartest African musicians alive.
Two days before meeting Captain Ajibade at his Lagos home, I Googled his name, Nothing came up, nothing linked him with the singer except during one of the music star's video shoots, where Mr Eazi disclosed that Kpalanga, a military-themed music video was inspired by his pilot father's absence from his family life.
The video features the singer and a troupe of back-up dancers dressed in military fatigues, reflected the "toll" his father's absence took on their relationship. He recalled meeting his father for the first time when he was two.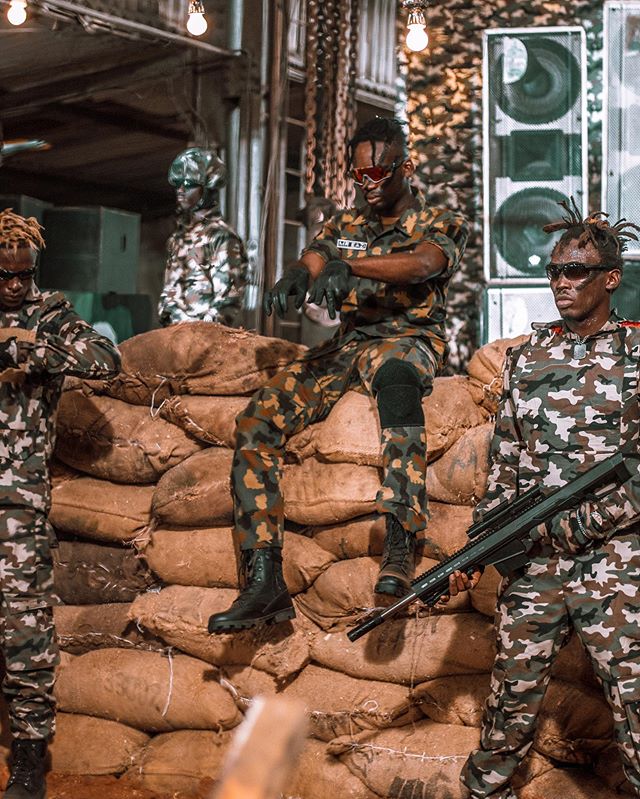 As we sat down in his plush living room, I asked why the Squadron leader and his wife were not out there despite the fact that their son is arguably one of Nigeria's most commercially successful artistes at the moment, especially in the international market.
From sold-out concerts to making huge streaming revenue, Mr Eazi can be said to have successfully cracked the code on how to effectively break into the international market. He has generated more than 900 million streams worldwide, including over 226 million plays on YouTube alone.
From his tone, his reactions, one will definitely doubt that Captain Ajibade who hails from Ayetoro, Ogun State, once worked in the military. He is calm and cool, a rare trait to see in a military man.
"I have always been a very private person, let Mr Eazi do his things and we do our things here too", he replied before painting a scenario to support why they chose to remain private as Mr Eazi's parents.
"I think it was in the news that Mr Eazi's father was kidnapped. People who saw the news were trying to reach me. It was on Sunday and I got back from Church early. So I was sleeping at home and my phone was off. By the time my wife got back and they called her, she said my husband is here.
"So they kidnapped the wrong person," he narrated.
Upon our arrival at his home, Mr Eazi's parents just filled up a car with cooked meals heading to somewhere in Agege to give them out to the less privileged. A week earlier, the parents through Mr Eazi's foundation – emPawa Foundation, had donated food items to residents in Sango Ota in Ogun State, and also visited Little Saints Orphanage in Lagos to support vulnerable children with food items.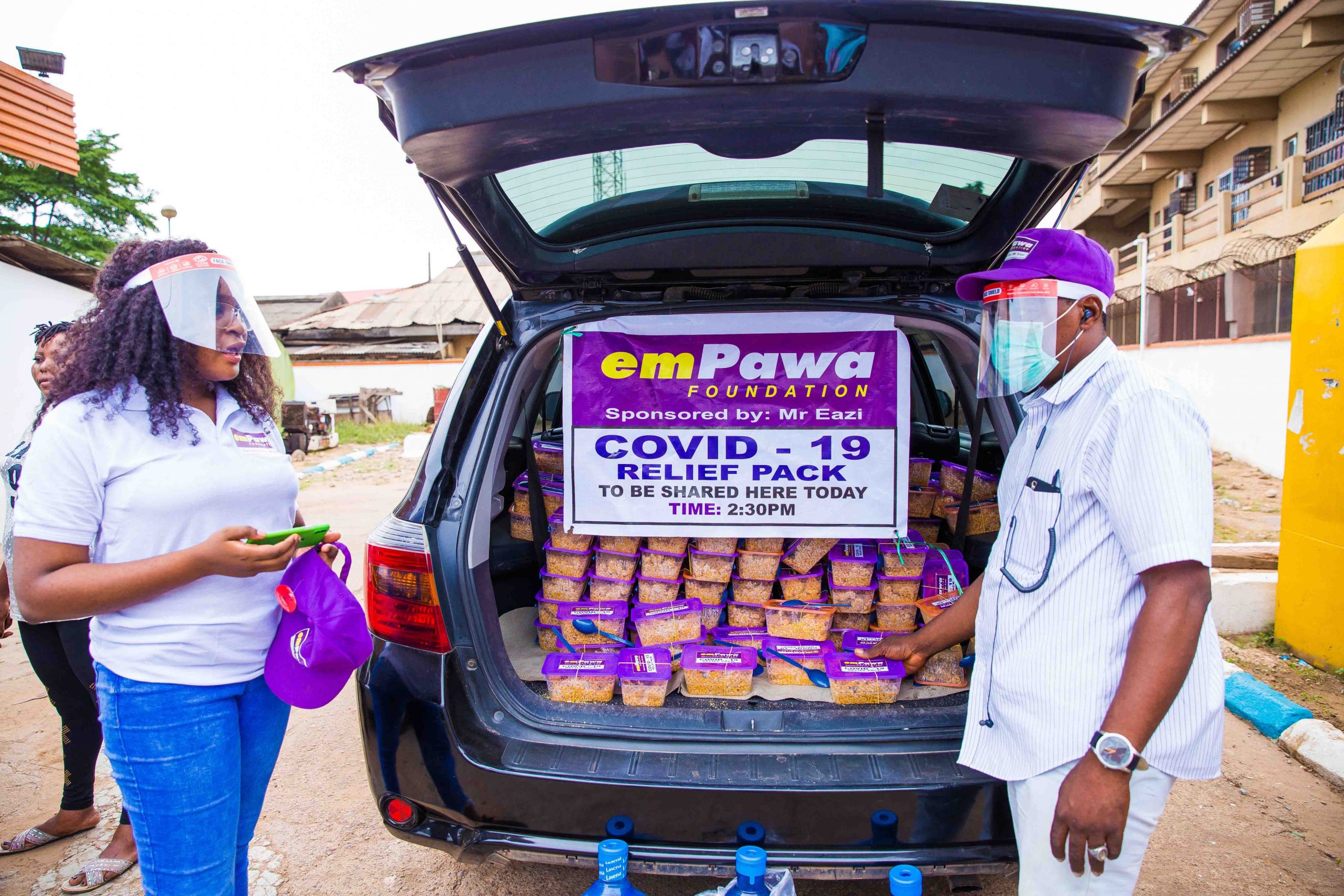 Initially, Captain Ajibade did not plan to follow the family to Agege to distribute the food but when we arrived, he had to take us in his car and waited, and after we were done, we headed back to his home and there I told him about our mission.
"I thought you guys will want to interview Mr Eazi not me and he's not around right now," he said.
I told him "we are here for you, for now sir."
After we settled down, he took us back to his military and religious journey as well as other things he had ventured into .
"I don't believe in titles. People just refer to me as Captain Ajibade, simple. I remembered when I was in Liberia, people call me Chaplain rather than addressing me by my rank. I retired from the Air Force as a Squadron Leader. In some circles, they call me reverend, some call me pastor. In fact, there is a renowned Bishop in this country that always addresses me as a prophet."
After leaving service, Captain Ajibade did not stop rendering service to his country, "And to the Glory of God, I fly more or less for fun now, training Police pilots with no charge," he says.
"I fly helicopters that are rare, that when you go round the whole of West Africa, you will only see one or two people that can fly that type of helicopter. So that's basically the person I am.
Captain Ajibade has worked with notable people in Nigeria in the aviation sector, "I retired after 19 years in service of Nigerian Air Force. Since then, I have worked in several places. Bristow Helicopters, Adenuga's Southern Airlines through Chief Makanjuola who owns Caverton Helicopters because he was the one paying us.
"As I said, I still fly. My dream is that one day, I will have my own helicopter. Right now I'm at the retirement age of even flying but then seeing some young ones growing, doing it and I love imparting knowledge on people, whether religious knowledge, spiritualism or knowledge as per aviation because after forty-something years in the military, you know I have something to offer.
Captain Ajibade was also in Sierra Leone for ECOMOG for three years, a West African peacekeeping force that was founded to stop the bloodshed and ethnic killing. "All those experiences shaped me and my perception about life," he added.
Captain Ajibade and his son had a weird relationship because of his absence in his life while growing up.
"I think I didn't see him for about 12 months after he was born," he said .
"15 months, it was 15 months," Mr Eazi's mother, former banker now a pastor and an entrepreneur who was sitting at the dining table observing the interview from afar chipped in.

"I actually met my wife in the bank where she was working," he had told me earlier.
"Well you know women do keep accurate date and time,'' Captain Ajibade added as he flashed back to those struggling times when he served his nation and left his family.
"I was to go to Liberia during the civil war, I only waited for some time to do the naming ceremony and I left. It was a tough time for me because he doesn't know me, he won't listen or speak to me," he lamented, "it was after I retired from the service I finally found time to work on our father and son relationship."
Mr Eazi's father is from Yewa in Ogun State while his mother is from the South-South region of Nigeria.
The couple met in Port Harcourt where Mr Eazi was born.
But how did Ghana come into the picture? I asked Captain Ajibade as Mr Eazi's musical root has always been traced to Ghana.
The singer once told Rolling Stone Magazine that "My music started out in Ghana, moved to the U.K. and then to Nigeria. To this day, the U.K. is my Number One streaming location on Apple Music and Spotify."
Mr Eazi had his growing up years, from 15 to 22 in Ghana for his educational endeavours, enrolling in the mechanical engineering programme at Kwame Nkrumah University of Science and Technology (KNUST).
He later went to Coventry University, United Kingdom.
Helping people has always been Mr Eazi's mission.
"It was during his time at KNUST, he started doing MC, DJ and booking artistes to perform at college parties using the money to help students," said Captain Ajibade.
He did not start making music to make money."
Mr Eazi would later contribute vocals to the track "My Life", a song that gained traction and became a popular record at KNUST.
It was during his time as MC that he got his stage name.
"When he is MCing at the party, he always cautioned people at the event to take it easy, easy easy je je which now becomes Mr Eazi," Captain Ajibade revealed, adding that his name was Easy Easy Jeje at first.
Mr Eazi went on to pioneer Banku music, a fusion sound he describes as a mixture of Ghanaian highlife and Nigerian chord progressions and patterns. It is a sound characterized by percolating rhythms and laid-back vocal delivered in Ghanaian Pidgin English.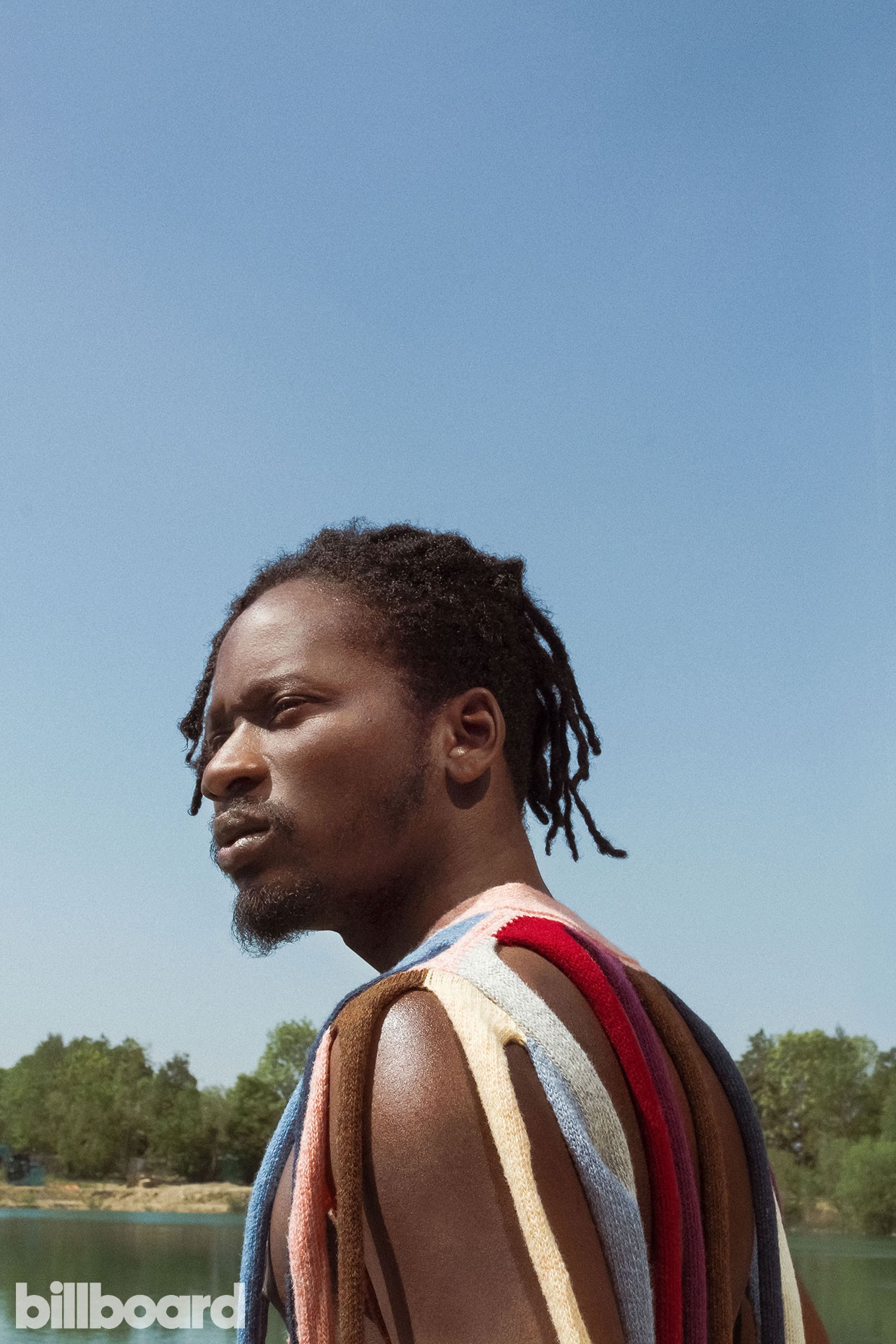 Expanding his community service beyond Nigeria, Mr Eazi launched a talent incubator programme 'emPawa Africa' in 2018, with the goal of investing in promising artists early so they could develop self-sustaining careers.
Each artiste will receive a $10,000 grant to go towards a music video, along with mentorship from professional singers, producers, and video directors.
Captain Ajibade, while reacting to that nodded in affirmation, "that's how all my children were brought up. It is not that he is rich to sponsor all those artistes, he has sponsors, some people are also supporting him."
"Mr Eazi always told us the story of the $1,000 investment someone made in his career and how that made a huge difference," E Kelly, a music producer and close collaborator, told Rolling Stone in 2019.
The strategy seemed to work for singers like Joeboy, J. Derobie, and others who scored hits last year after connecting with emPawa.
I asked at what point did Mr Eazi show interest in music.
Ajibade did not give me a specific answer but disclosed that all his children have access to many musical instruments at home and they listened to records he would play for the family while having breakfast.
Giving the fact that Military men are always strict, Captain Ajibade is far from strict.
He is actually the one we should be calling Mr Eazi.
As a man of God, he believes people should do what they are passionate about and be fulfilled.
Speaking about his private lifestyle, Captain Ajibade said he doesn't always attend his son's shows.
When he attends, he will melt with the crowd.
"That's where all the fun is actually."
His son will announce that his father is around but won't get him noticed because he does not take life too serious because of his experience while growing up.
"There are always two angles to human beings. There is spiritual and there is physical and when you have experienced both, you just know that there is nothing to it.
He went on to narrate how things were hard while growing up, "I say extremely rough, right from my primary school days, I even had ulcer but reading the bible and following the scripture, it impacted on my character and my way of life."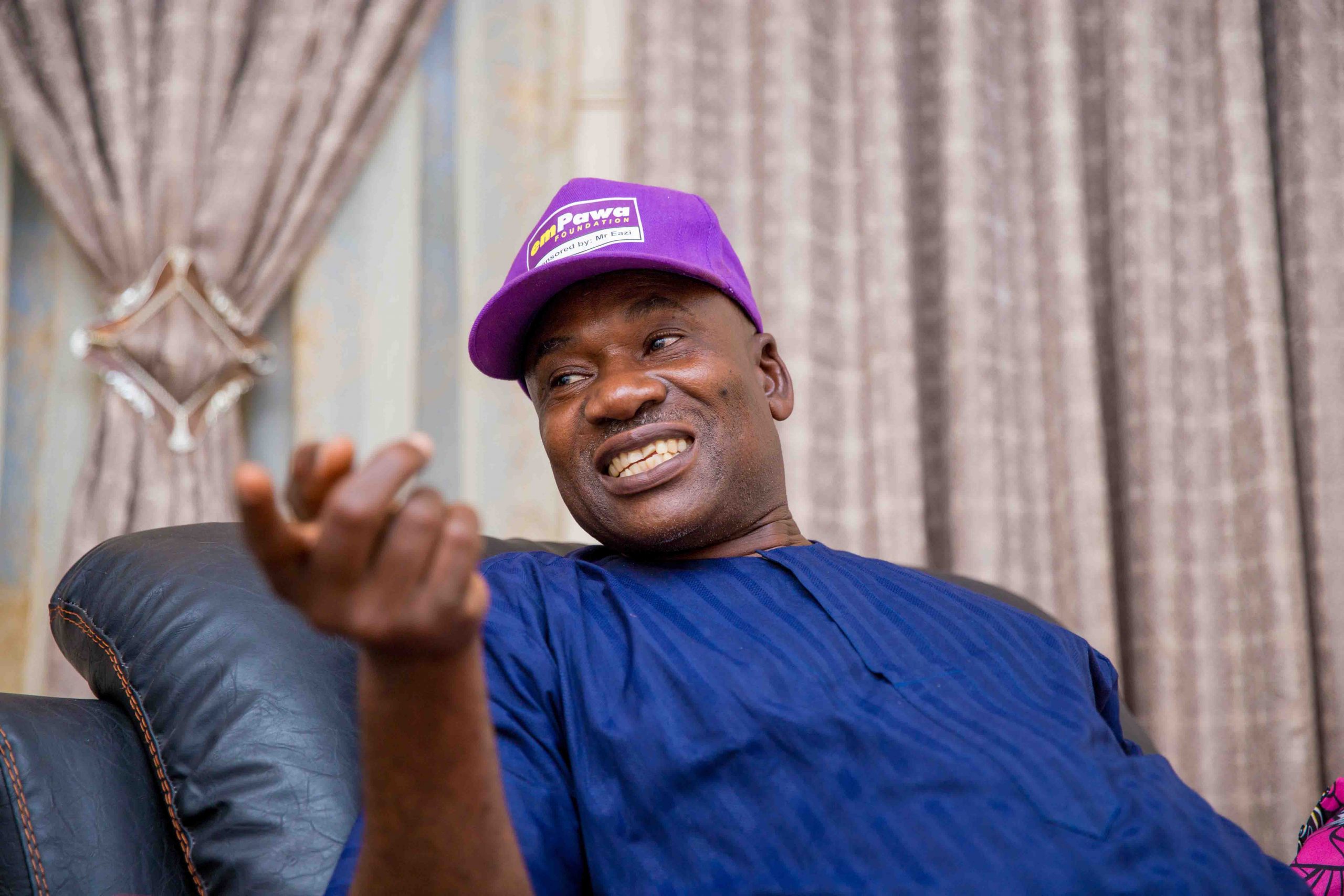 Captain Ajibade also had a little stint in politics, he contested Federal House of Rep three times and lost all.
Prior to that, he boasted building more than 200 boreholes across the country as a way of giving back to the communities.
He said his third attempt to the National Assembly made him quit politics.
"The one that I won, those who have money bought it and that's politics," he said.
"At one point I was wondering how the person I defeated in his polling unit, in his ward, in his local government and won the election at the end of the day. ?"
But for someone like Captain Ajibade who believes in God, he took the loss as part of the training of life.
"It shows the extent people can go, including going into diabolical means to win elections.
"I told the man that the way the animal that went to sacrifice suffered and died, that's the way you will end up your life, and that was what happened. He was in the House of Rep three times consecutively, but he died I was not happy about it but there is nothing you sow in life you will reap it, whether here or hereafter."
Captain Ajibade started his political career from Alliance for Democracy, AD, and migrated to People's Democratic Party, PDP, "and that was when Gbenga Daniel started his campaign in Ayetoro with some of my projects. I moved all my followers from AD to PDP and I have always contested under PDP, though I am not an active PDP member anymore," he reveals.
Despite his contribution to his communities and having a good plan to represent them at the National level, Captain Ajibade's efforts were not appreciated.
"In fact I stopped been active in politics after my third attempt. I have come to realize that people are not ready, maybe for those who believed in divine intervention, maybe we will look for divine intervention, but the attitude of the people cannot actually bring an effective change," he concluded.