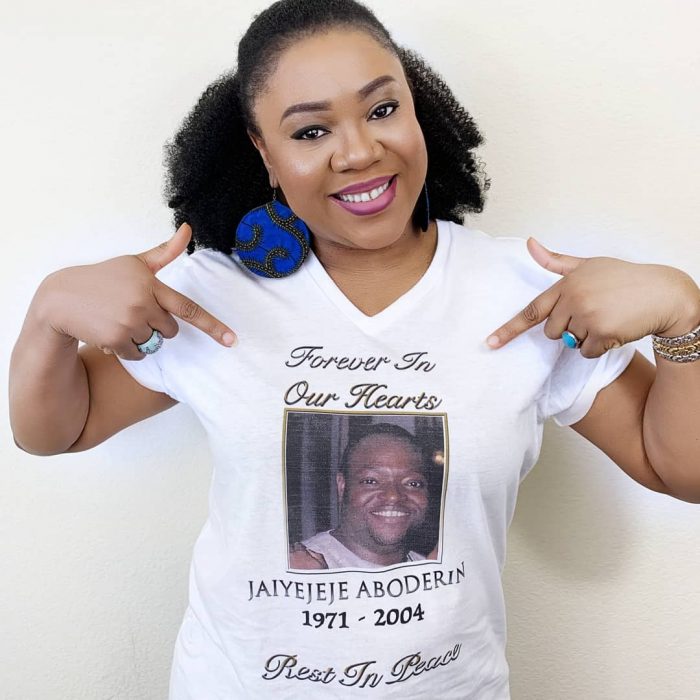 By Jennifer Okundia
Movie star and singer Stella Damasus, has paid tribute to her late husband Jaiye Aboderin, who died 16 years ago.
The couple who share two daughters Angelica and Isabel Aboderin, were married from 1999-2004.
Stella later remarried Emeka Nzeribe in 2007.
But the union only lasted seven months before they settled for a mutual divorce.
In 2011, Damasus became associated with multiple award-winning Nollywood producer and director Daniel Ademinokan; the couple have been together ever since.
Stella and her daughter Izzy Belle, shared photos of themselves wearing matching outfits with Jaiye's photo, and penned the message below in a caption.
The mum of two wrote:
It's been 16 years since we lost my hubby JAIYEJEJE ABODERIN. Still feels like yesterday. I wasn't sure I could bring myself to write this but I need to. Our daughters are 21 and 18 now, all grown up. They decided to do something different this year to honor him. We all miss him and talk about him daily. Jay is not the kind of man that you forget. I smile each time I remember or talk about him because that's what he represented to all who knew him. He brought joy, happiness, comfort and support to all. I cry sometimes because I wish he could have spent more time with us. But God knows best. Anyone who has lost a spouse will understand what I mean. JAY will never be forgotten. His legacy lives on. No matter where we go or who we become, he will always be in our hearts. Rest in peace Obim. #RIP #jaiyejejeAboderin
Izzy Belle said:
16 years ago today, I lost someone very important to me. At the time, I didn't fully understand the concept of death and didn't realize that my father wasn't coming back from heaven. This really affected me in my later years, and every December, it felt like I lost him over again. But in these same years, I heard many more wonderful stories about him and how much he was celebrated, especially after he passed away. I finally understood why God couldn't wait to take him up to heaven; because he wasn't just an extremely amazing human being. He was an angel. So this year, we celebrate the life of my late father. Daddy, you will forever be in our hearts. Rest in perfect peace. 🙏🏽🙏🏽❤️❤️💕💕 #rip #daddy
Read some comments here:
k8henshaw
🙏🏻🙏🏻🙏🏻🙏🏻🙏🏻🙏🏻
adesuaetomi
Sending you tons of love🧡🧡🧡 may he continue to RIP
ucheelendu
May his soul keep resting in Peace. You're a strong woman
maryann_apollo
chaiiii sis the love of your life!!!! i can never forget him, the most humble, kindhearted, down to earth, giving, prayerful and the most loving husband i saw, constantly looking around for his wife even when she's around he misses her , rest strong king we will love you forever am still your family forever, thank you for always reminding me to read well in school love you forever bro,love you sis sending you hugs and kisses
mimiorjiekweng
🙏🤗
shakima06
Awwww he was such a loving, caring and never a boring moment around him, I called him broda mi😊.. May his sweet and gentle soul continue to rest in peace🙏.
sandydamasusc_age
I always always remember him,he wasn't my brother in law,he was my brother in every sense,he went out of his way to do stuff for me that perplexed me….that I miss him is an understatement,all our gists,plans etc….sometimes I think of him and my heart is so heavy but I know he is resting in glory because God loves him too much. It is well my dear sister @stelladamasus 💕💕
esther.adetola
I have never lost a spouse but I have experienced first hand the death of loved ones first my mum so young and sweet died suddenly and years later my dad died suddenly too.I remember you and your late husband and how your band brought joy to many. His death was a shock to many.Keep being strong for your daughters and be assured you will see your beloved husband again on the resurrection morning. 🙏🙏❤️❤️

Load more