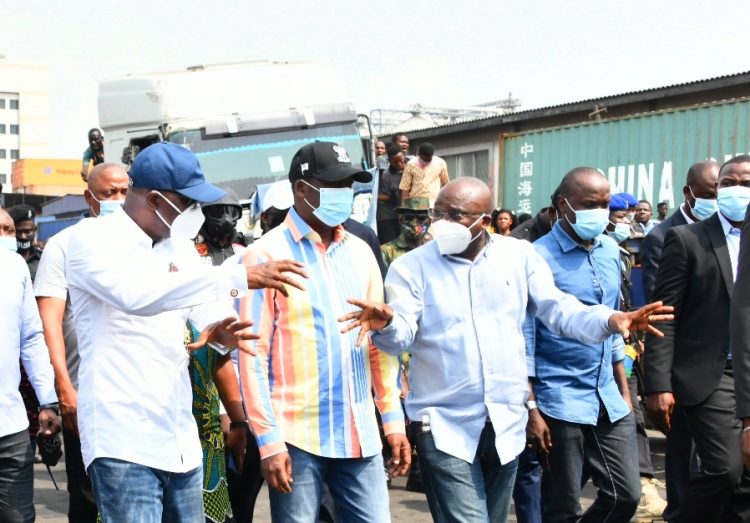 By Benson Michael
Lagos State Governor, Babajide Sanwo-Olu visited Apapa area of the state on Monday to access situation on ground in preparation to take over the management of traffic from the Federal Task Force.
He said the government is to set up a seamless operations involving a team of dedicated officers from Lagos State Traffic  Management Authority, LASTMA, and policemen from Area B to take over traffic control in Apapa.
The governor, who addressed newsmen after the tour of the area said "now, there is a process that is starting in which the state government need to take over that task force. One of the reason for this trip is to start that process, to see things for myself.
"The State government is to set up a seamless operation to have a team of LASTMA about 400 to 500, dedicated to Apapa gridlock, have a team of police men from Area B dedicated to the same gridlock… Understand what the airport police command is doing, because they are also part of the problem.
"More importantly, be able to speak to all the big men in the office, the Ship owners, the Port terminal operators, Freight forwarders, who are not here with the port drivers, who we see that they are the one carrying the brunt," the governor said.
He stated that the whole essence was to solve the gridlock problem in Apapa, saying, "We are trying to bring about a comprehensive metrics where all the stakeholders in Apapa understand and appreciate the various role that everybody needs to play. And let everybody identify and solve it."
The governor lamented a situation where the port is locked down for about eight to ten hours because somebody is trying to take over which also results in demurrage charges.
"And we have all heard all the complaints from the various stakeholders, the Unions, freight forwarders, drivers, everyone has said there own side of the story and you can see that it is multifaceted.
"There has been accusations around cabal collecting money from operators and accusations around being hijacked by some people and there has also been counter accusations," he added.
He stated that he would discuss some of the issues with the IGP, the Minister of transport and get NPA to understand what their roles are.
"As a government, we don't own the Port, but we have a responsibility to our citizens," he said, adding that there is a need for a turn around in Apapa.
"It is part of ensuring that we reduce the ease of doing process, if businesses are expensive to run they will pass the the cost to the customers.
"It is a process and we will not say that we have all the solutions but we have seen the process, again we have see that we can improve this process and we have identified the stakeholders," he added.

Load more