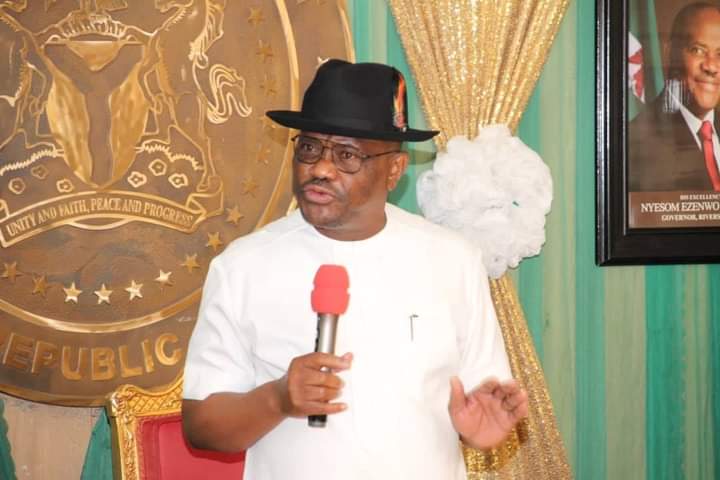 Okafor Ofiebor/Port Harcourt
Tension is building up in Umueye community of Oyigbo Local Government Area of Rivers State over alleged plan to demolish houses and other structures for alleged road project allegedly proposed for the area by the Niger Delta Development Commission, NDDC.
PM NEWS learnt that a circular announcing the proposed demolition of property has been circulated to property owners in the community which is in the urban area of Oyigbo LGA while some structures that will give way for the purported road have also been marked.
The circular, which was also obtained by our correspondent was signed by Elder Daniel Ogbuji, the Chairman of Umueye Community Oyigbo,  Nwankwo Chidiebere, Secretary, Umueye Community and Micheal Azuh , Youth Leader, Umueye Community respectively.
In the circular, residents whose property have been marked were asked to remove such properties or risked demolition by the community youths.
The circular reads: "This is to inform you that your structure/building and sign boards are marked within the road map of the aforementioned name above. Therefore, you are adviced (sic) to re-arrange/ remove that structure immediately to avoid demolishing it by ourselves for further developmental reasons especially the forthcoming road grading in Umueye road phase 1 and 2."
Our correspondent called the numbers of the persons who purportedly signed demolition notice, but the numbers were either switched off or rang out without responses.
It was learnt that some of the residents that are ignorant of the Land Use Act have started removing their structures out of panic.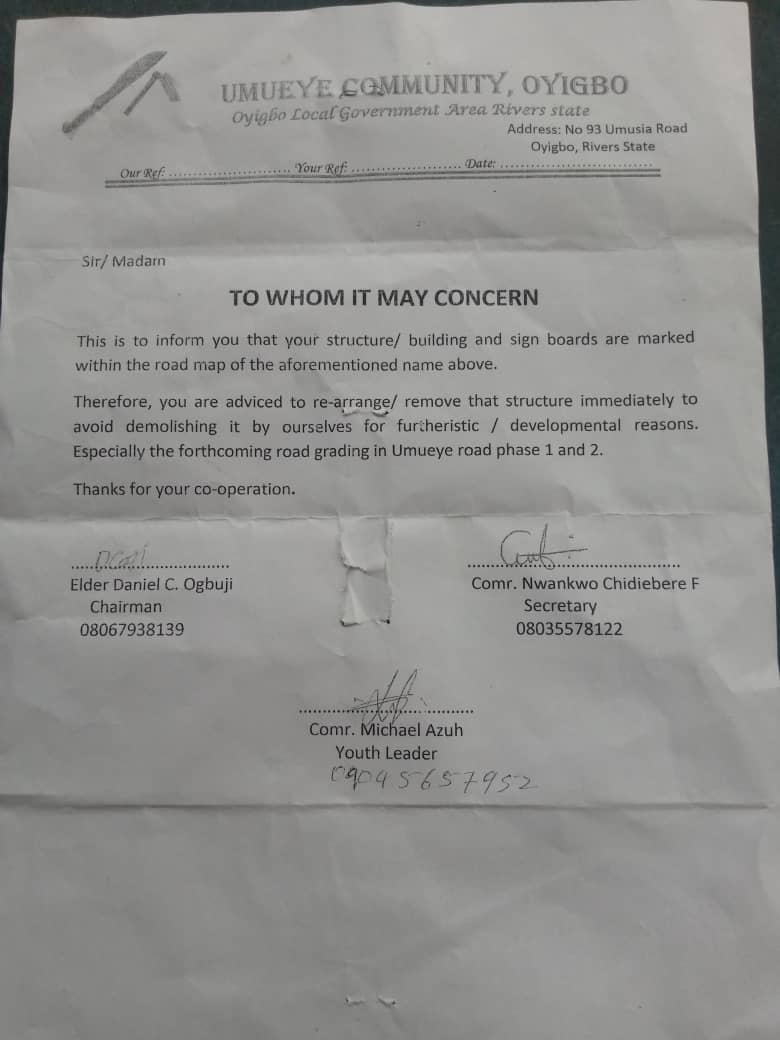 Some of the obviously worried residents confirmed receiving the circular from the group directing them to remove their structures.
Many property owners are also at a loss why youths of a community would usurp the powers of government and were issuing threats to pull down houses under the guise of road construction.
They called on the Chairman of Oyigbo Local Government Area and Rivers State Government to step into the matter as to avoid break down of law and order.
A resident of High Tension Area of Umueye, Oyigbo , Policarp Jonna, confirmed that he was served the notice to remove his building for a proposed grading of road.
"I received a circular directing me to remove my house for a proposed grading of the road. The person that brought the circular told me that Rivers State Government in partnership with Niger Delta Development Commission, NDDC have awarded contract for the construction of the road. The person told me that the community has the mandate of NDDC to remove structures that fall within the proposed road," he said.
"I wonder what power community people have to pull down properties belonging to residents. Under what law can a community association derive power to pull down properties belonging to residents. It's only Government that reserved the power to pull structures under public interest law. And they lied that they were directed by NDDC to pull down properties that fall within the proposed road. If actually NDDC wanted to construct road could such government agency direct community association to remove structures on their behalf. Besides, before NDDC starts construction,the first hoist their trademark signposts on the designated roads to be constructed.
"I think this people are criminals that want to extort money from residents under the guise of road construction," he said.
Another resident who pleaded anonymity said that one of the youths that brought the circular to his house said that if he can pay a bribe of N100,000 his house will not be demolished.
"Some of these Oyigbo youths came to my house and handed over a circular directing me  to remove my building for a proposed road construction. The boys said that NDDC has awarded contract for the reconstruction of the road . He said that they have the mandate of NDDC to pull down properties that fall within the proposed road. They threatened to bring down my building if I refuse to comply. But what baffles me was that they boys came back later and demanded  N100,000 from me. They said that my building will not be demolished if I can part with the money," he stated.
However, the Rivers State  Ministry of Urban Development and NDDC have disowned the circular and the proposed demolition.
A source in NDDC stated categorically that the Commission did not award any recent road contract in any  part of Oyigbo.
Rivers State Commissioner for Urban Development , Ben Chioma, clarified that road construction does not fall under his Ministry .
However, he said that individuals have no right to demolish property under the guise of road construction.
Chioma pointed out  that it's only government that reserve the right to acquire property under public interest .
He said before such properties are acquired, the State Government will appoint a registered valuer to work out compensation for those whose property may be affected in a proposed road project.
But residents of the community, especially property owners are calling on security agencies and Governor Wike  to intervene before the fragile peace in the area is shattered by criminally minded people.