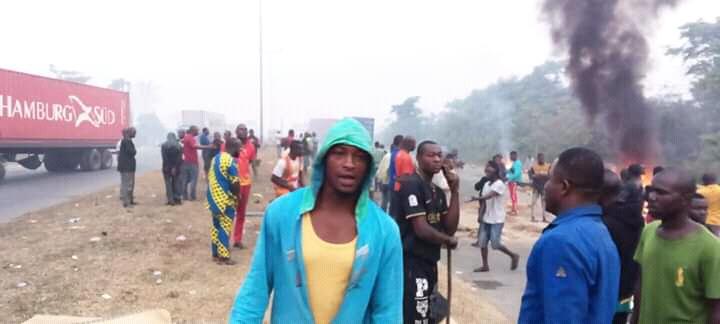 Okafor Ofiebor/Port Harcourt
Omagwa, the host community of Port Harcourt International Airport in Rivers State is now calm after protesters paralyzed vehicular movements in the area over alleged killing of a truck driver at a security checkpoint on Friday evening.
It was learnt that a security operative the shot driver dead at about 9 pm on Friday night.
However, angry tanker, trailer drivers and some youths stormed the checkpoint with articulated vehicles on Saturday morning to protest the killing of the driver.
The protesters used the articulated vehicles to block all roads leading into and out of the airport to other parts of the city thus preventing passengers from going into or leaving the airport.
As was gathered,  every access route into the Port-Harcourt International Airport from nearby Igwuruta community and the Obiri Ikwerre Axis linking the East/ West Road end were blocked by the protesters.
It was gathered that security operatives at the checkpoint scampered to safety, abandoning their duty post when the protesters arrived at the scene.
However, Samuel Nwanosike, the Chairman of Ikwerre local government Council area swiftly moved to the scene and was eventually able to pacify the angry truck drivers to vacate the road and allow access to the airport.

Load more