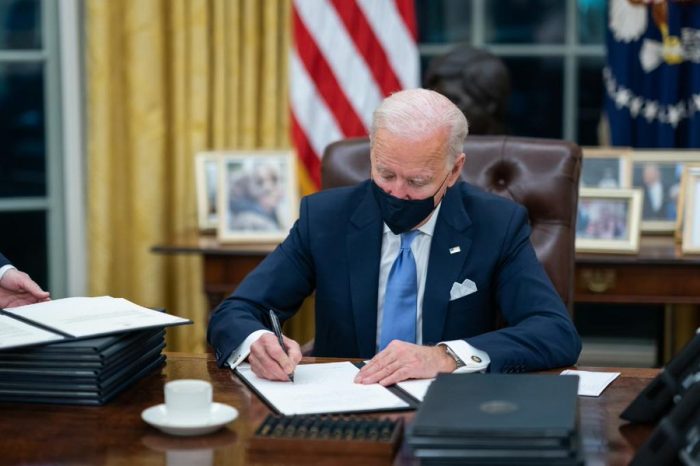 Agency Report
Democrats in the US Senate on Saturday approved a $1.9 trillion COVID-19 relief bill in a party-line vote, advancing President Biden's top legislative priority.
The passage followed an all-night partisan showdown over the massive spending and failed efforts by Republicans to muscle through about three dozen amendments.
The bill could land on Biden's desk next week to sign into law.
The final bill includes $400 billion in one-time payments of $1,400 to most Americans, $300 a week in extended jobless benefits for the 9.5 million people thrown out of work in the crisis.
It also provides for $350 billion in aid to state and local governments that have seen the pandemic blow a hole in their budgets.
The stimulus checks for individuals will only go to Americans making under $75,000 and couples making under $150,000.
The bill would provide $130 billion for K-12 schools, nearly $40 billion for colleges, $15 billion for loans to small businesses, $14 billion for vaccine programs and $8.4 billion for rural hospitals.
The Senate voted 50-49, with no Republicans voting in favour, on what would be one of the largest stimulus packages in U.S. history.
Several Republicans left the chamber immediately after the vote, while Senator Bernie Sanders fist-bumped Senate Majority Leader Chuck Schumer.
"It's been a long day, a long night, a long year but a new day has come and we tell the American people help is on the way," Senate Majority Leader Chuck Schumer, New York Democrat, said before the vote.
The fight is not over as the bill needs to return to the House of Representatives, which approved a slightly different version a week earlier.
The standoff within the Democratic party over the jobless benefits and the all-night effort by Republicans to amend a bill that polls show is popular with voters illustrated the difficulty that Biden will face in pushing other policies through a Congress that Democrats control by the narrowest of majorities.
The bill is a priority for Biden as the country battles a pandemic that has killed more than 520,000 Americans.
Senate Democrats used a process called reconciliation to pass the measure with a simple majority rather than the 60 of 100 votes normally required under the chamber's rules.
The package now goes back to House Speaker Nancy Pelosi's chamber, where it is expected to pass next week and then go to Mr. Biden for his signature.
*Reported by Reuters/NAN
Load more