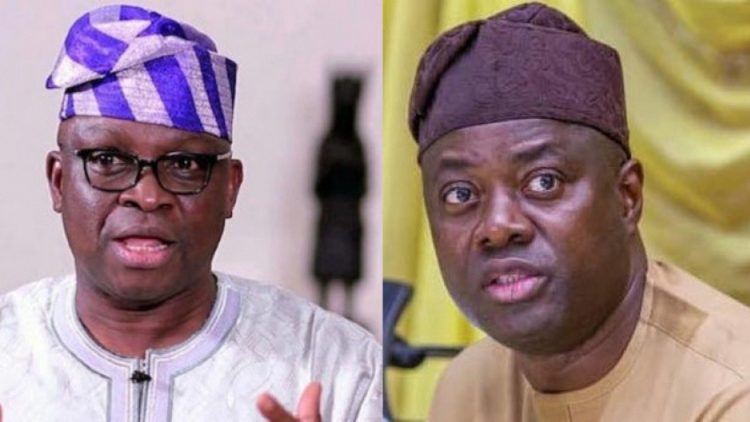 By Abankula
Former Governor of Ekiti State, Ayodele Fayose has now publicly accepted Governor Seyi Makinde of Oyo as the South West zonal leader.
He made the surprise concession at the zonal congress taking place at WOCDIF Event Centre, Osogbo, capital of Osun on Monday.
"Makinde is the leader and father of the party in Southwest", he told the delegates.
Leadership tussle between Makinde and Fayose had heated up the zone, with the PDP NWC having to shift the congress from Ibadan to Osogbo.
But Fayose saw in Osogbo today that he no longer enjoys the support of many PDP members, as many of the delegates appeared in an Ankara uniform, to show solidarity with Makinde.
(Now watch Fayose's humbling speech, declaring Makinde as his leader.
By bowing to Makinde's leadership, the former governor may have thrown under the bus the people he was backing for the congress election.
What it means for Makinde, is that the zonal leadership team that he favours, will now have an easy ride into office.
Makinde supports Ambassador Taofeek Arapaja as zonal chairman, while Fayose was rooting for Eddy Olafeso.
"Governor Seyi Makinde is our leader. Our supporters and lovers should not continue to put hedge in between us. Either way this election goes, I will accept.
"Even though Arapaja has abused me so much, I will be the first person to visit him in Ibadan.
"Nobody has offended me and if I have offended anybody, I sincerely apologise. Seyi Makinde remains our father come what may", he added.
Makinde, also addressing the delegates said: "This is a family affair. It is an attempt to reposition our party in the Southwest. It has ramifications for our party nationally.
"Whatever the outcome is, we will take it in the spirit of a family contest. We don't want to defeat ourselves; we want to defeat the All Progressives Congress (APC).
"At the end of this exercise, there will be no victor, no vanquished. As the only Governor of the party in the zone, whoever emerges, I will work with them to reposition the party. I thank you for the peaceful conduct."