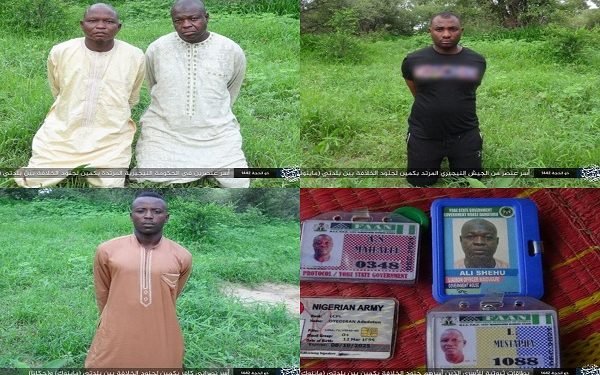 The pictures of the two soldiers and Yobe Liaison officers abducted on Saturday have been released by Boko Haram terrorists.
The terrorists also released the identity cards of the abductees.
According to the ID cards, the persons abducted are Mai Lalle, Mustapha, and Lpcl Oyediran Adedotun of the Nigeria Army.
However, the ID card of the fourth abductee Bello Abubakar of the Nigerian Army was not displayed by the terrorists.
Abubakar's ID card was earlier found in the vehicle where the soldiers were kidnapped.
The four victims were abducted on Saturday along Maiduguri/Damaturu highway.
Mai Lalle and Mustapha were traveling to Maiduguri while the two Army personnel were traveling to Kano on a pass permit.
How the soldiers were kidnapped:
The soldiers were kidnapped while traveling to Kano, in a civilian vehicle around 5:07 pm on Saturday, according to a wireless message sent by 29 Task Force Brigade and published by PeoplesGazette.
It was learned that the passengers in the vehicle that observed the driver's suspicious behavior and his familiarity with the terrorists alerted the army base in Mainok.
However, the troops from the 134 special forces battalion led by the commanding officer were mobilized to the scene, but the terrorists had fled the area.
"The soldiers were on the pass when the incident occurred. Liaison with Sect 2 MIB revealed that a SAR operation is being conducted while the driver of the bus in which the soldiers were traveling is suspected to be a prime suspect in the incident due to some indicators. He has been arrested by troops and is undergoing investigation," the army document stated.
However, the army has been unable to know the whereabouts of the soldiers.
Load more