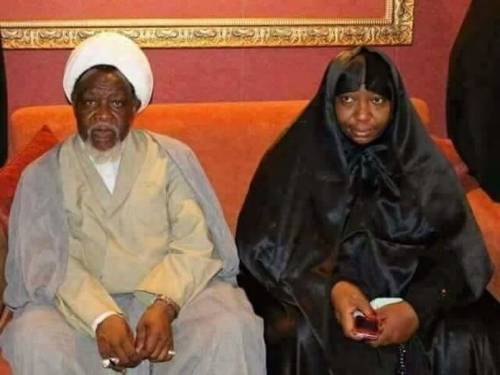 Leader of the proscribed Islamic Movement in Nigeria, Sheikh Ibrahim El-Zakzaky and his wife have been freed by the Kaduna State High Court.
In his ruling on Wednesday, Justice Gideon Kurada said the no-case submission filed by El-Zakzaky and his wife was in order and upheld it.
According to Channels TV, in an alleged culpable homicide, unlawful assembly and disruption of public peace levelled against them by the Kaduna state government, the judge held that the prosecution failed to establish a prima facie case against the defendants on allegations culpable homicide and unlawful assembly.
El-Zakzaky and his wife Zeenat Ibrahim have been standing trial for the past four years on an eight-count charge of alleged culpable homicide,  disruption of public peace and unlawful Assembly among others levelled against them by the Kaduna state government.
El-Zakzaky was injured and arrested along with his wife, in the 2015 Zaria massacre, in which three of his remaining sons, as well as hundreds of his followers, were killed by the Nigerian Army.
On 2 December 2016, El-Zakzaky was ordered to be released from Department of State Services detention into police custody within 45 days. He and his wife were to be paid the sum of N50 million  ($164,052) in compensation.
Before today's court judgement, Mr Femi Falana SAN had argued that even though the prosecution called 15 witnesses, none of them was able to establish any connection between the alleged crimes and Sheikh El- Zakzaky.
In the last sitting of the court held on 1 July, the lead Counsel prayed the court to rule in favour of his clients.
Load more