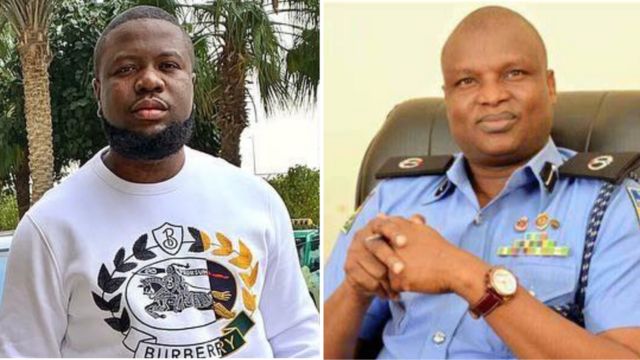 The Inspector General of Police, Alkali Baba has ordered an "internal review" of the indictment of DCP Abba Kyari, by the FBI of the United States.
The indictment was a fallout of the cybercrime charge levelled against Nigeria's Instagram Influencer, Ray Hushpuppi, real name Ramon Olorunwa Abbas.
Hushpuppi and five other Nigerians and a Kenyan were alleged to have defrauded a Qatari businessman of about $1.1 million between December 2019 and early 2020.
Kyari got entangled in the case by arresting a colleague of Hushpuppi, Kelly Chibuzo Vincent, at Hushpuppi's request.
Hushpuppi claimed he bribed Kyari for the arrest and even made Kyari to send photograph of the arrest.
Kyari has been named in the court papers and Judge Otis Wright of the District Court in California Central District has ordered the FBI to arrest him.
In a short statement, IGP Baba said he had received the FBI papers and has ordered an internal review.
Read the statement by Police spokesman, CP Frank Mba:
"Sequel to the receipt of allegation and indictment processes from the Federal Bureau of Investigation (FBI) against one of the personnel of the Nigeria Police Force, DCP Abba Kyari, the Inspector General of Police IGP Usman Alkali Baba has ordered an internal review of the allegations.

"The Nigeria Police Force reaffirms its commitment to the pursuit of justice and the strengthening of its professional relationship with the FBI and other international partners.

"Further developments on this case will be communicated to members of the public accordingly."
Kyari made a stout denial of the allegation against him today, saying he arrested Vincent because Hushpuppi claimed Vincent was threatening his family in Lagos.
Perhaps, unknown to Kyari, Hushpuppi and Vincent jointly carried out the Qatari man's scam and quarrelled over loot sharing formula.
Kyari denied he collected money from Hushpuppi to do the hatchet job by arresting 40 year-old Vincent.
Vincent is also now wanted in the case as FBI said three people in Africa are wanted, after the arrest of three U.S. based Nigerians.
The third person wanted is the Kenyan, Abdul.
According to a statement by U.S. Attorney's office in central California, a federal grand jury indictment unsealed this week alleges an elaborate scheme to steal more than $1.1 million from a businessperson attempting to finance the construction of a school for children in Qatar – and the subsequent laundering of illicit proceeds through bank accounts around the world.
The three-count indictment returned on April 29 and unsealed Monday charges three U.S.-based defendants, the Nigerians, who were arrested last week – as well as three defendants believed to be in Africa – with conspiracy to commit wire fraud, conspiracy to engage in money laundering, and aggravated identity theft.
The indicted three in Africa are Abba Kyari, Vincent and the Kenyan .
The three Nigerians based in the U.S., who have been arrested in the case are Yusuf Adeyinka Anifowoshe, Rukayat Motunraya Fashola and Tawakalitu Agbabiaka.
Abba Kyari's role:
Court documents outline a dispute among members of the conspiracy, which allegedly prompted Vincent to contact the victim and claim that Abbas and Juma were engaged in fraud.

After this contact, Abbas allegedly arranged to have Vincent jailed in Nigeria by Abba Alhaji Kyari, 46, of Nigeria.

According to the affidavit, Kyari is a highly decorated deputy commissioner of the Nigeria Police Force who is alleged to have arranged for Vincent to be arrested and jailed at Abbas' behest, and then sent Abbas photographs of Vincent after his arrest.

Kyari also allegedly sent Abbas bank account details for an account into which Abbas could deposit payment for Vincent's arrest and imprisonment.

Load more