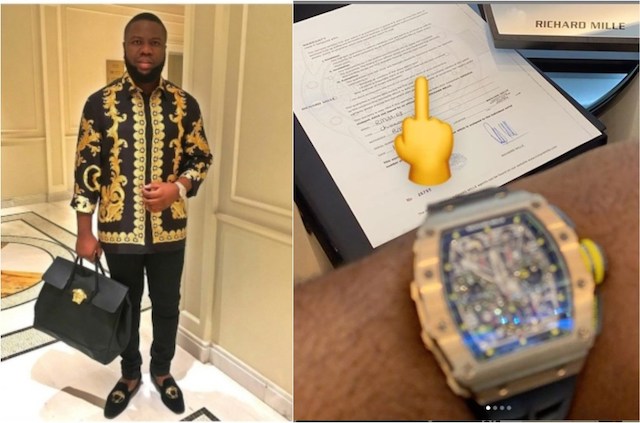 Apart from his array of Luxury cars such as Rolls Royce, Bentley Bentayga SUV, Bugati and so on, Nigeria's internet con artist, Ray Hushpuppi also has a taste for luxury watches.
In March 2019, Hushpuppi had flaunted a luxury Richard Mille watch that he said he bought for $150,000.
"God's time is the best, especially when you checking it from a $150,000 Richard Mille Watch", he wrote on Instagram.
"I greet myself again and again congrats and well done (pats myself on the back)"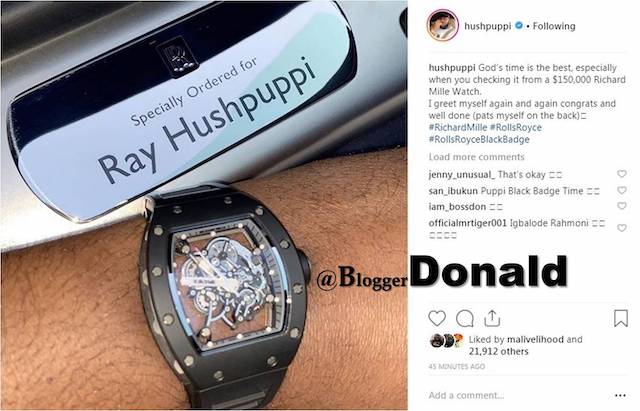 In December 2019, his taste for Richard Mille wrist watch deepened as he went for RM11-03 model, which cost $230,000 only at the time.
At today's exchange rate, it is worth N94million at official rate and N120.75 million at BDC and Black market rate.
The RM11-03 watch got a prominent mention in the plea bargain deal reached between Hushpuppi and the U.S. Attorney Office for California Central Division.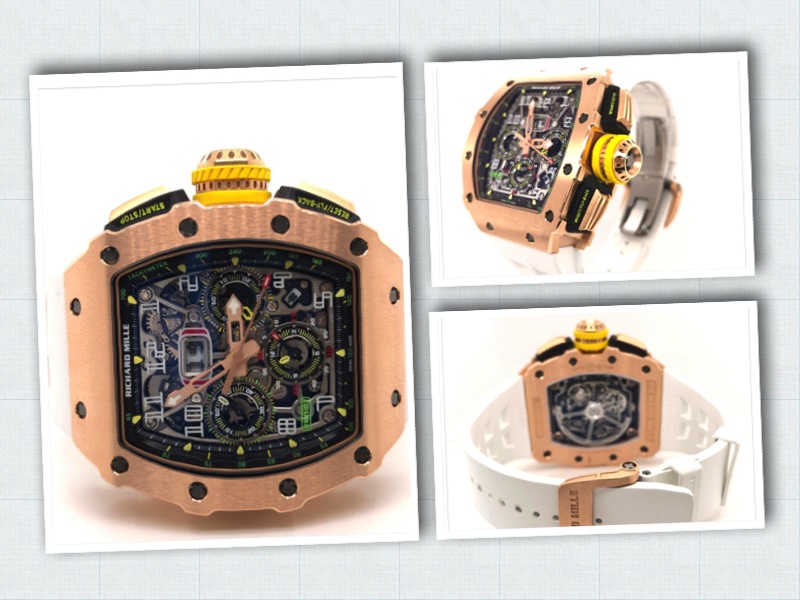 A typical RM11-03 watch has a Rose gold-tone 18kt rose gold case with a white rubber strap.
"Fixed rose gold-tone 18kt rose gold bezel. Transparent dial with rose gold-tone hands and Arabic numeral hour markers. Minute markers around the outer rim.
"Dial Type: Analog. Luminescent hands and markers. Date display at the 12 o'clock position.
"Chronograph – three sub-dials displaying: 60 second, 30 minute and 12 hour.
"Richard Mille Calibre RMAC3 automatic movement with a 55-hour power reserve. Scratch resistant sapphire crystal. Screw down crown.
"Transparent case back. Tonneau case shape. Case size: 44.5 mm. Buckle clasp. Water resistant at 50 meters / 165 feet. Functions: chronograph, flyback, big date, hour, minute, second, shock resistant. "
The price can be as high as $300,000. Some models sell for as much as $745,000.
Ray Hushpuppi certainly got a discount at the time he bought it in December 2019, from the proceeds of one of his crimes.
The victim was a Qatari businessman looking for a loan of $15million to establish an international school in Qatar.
Hushpuppi and collaborators preyed on him, promising to arrange the loan.
A Wells Fargo account was opened for the man's business in California and thereafter the demands for money began.
"After Coconspirator B arranged to file the fictitious business name statement and open the Wells Fargo bank account ending in 5320 (the "Wells Fargo Account"), defendant directed a coconspirator in Nigeria ("Coconspirator C") to create a false and fraudulent "power of attorney" document bearing the name of the Qatari Victim Company.
"Defendant then sent information relating to the Wells Fargo Account, as well as the "power of attorney" document, to the Victim Businessperson on or about December 19 and 20, 2019, in order to further the fraud scheme.
"Between approximately December 19, 2019 and December 24, 2019, Coconspirator A and defendant each corresponded with the Victim Businessperson to fraudulently induce the Victim Businessperson to pay approximately $330,000 to fund the opening of a purported "investor's account" in order to facilitate the transfer of the $15,000,000 loan they promised the Victim Businessperson.
"Defendant, specifically, directed the Victim Businessperson to make wire transfers of $230,000 to a Wells Fargo bank account of a luxury watch-seller and $100,000 to a Capital One bank account of a coconspirator ("Coconspirator D").
"The Victim Businessperson made those wire transfers to these bank accounts, both of which were in the United States, on or about December 26, 2019.
"Defendant used the funds from those wire transfers for his personal benefit, and none of the funds were used as defendant and Coconspirator A promised the Victim Businessperson.
"Defendant used the wire transfer of $230,000 to purchase a luxury Richard Mille RM11-03 watch. Defendant arranged for the watch-seller to have the watch available in the New York metropolitan area, where Coconspirator D picked it up.
"Coconspirator D — coordinating with another coconspirator ("Coconspirator E") — arranged to have the watch delivered to a different coconspirator ("Coconspirator F").
"Defendant then directed Coconspirator F to transport the watch on a flight from John F. Kennedy International Airport in New York to the United Arab Emirates, where Coconspirator F delivered the watch to defendant on or about January 4, 2020"
Load more